KPU announces list of names of ex-corruptors running in legislative election.
REPUBLIKA.CO.ID, JAKARTA - The General Election Commission (KPU) on Wednesday night (Jan 30) announced a list of names of former corruption convicts running in legislative election. The move was in accordance with one of the articles in Law Number 7 of 2017 concerning Elections.

Based on the data compiled by KPU, there were 49 names of ex-corruptors. KPU said 40 of them running in regional legislative candidates (DPRD) and 9 others became Regional Representative Council (DPD) candidates.

"Of the 40 legislative candidates who are ex-corruptors, about 16 people are candidates for the provincial DPRD, and 24 candidates for district/city DPRD. So, the total number of former corruption convicts as legislative candidates of provincial and regency/city DPRD are 40 people," said Chairman of KPU, Arief Budiman on the press conference at KPU Building, Wednesday (Jan 30) night.
Also read: Ex-graft convicts allowed to become legislative candidate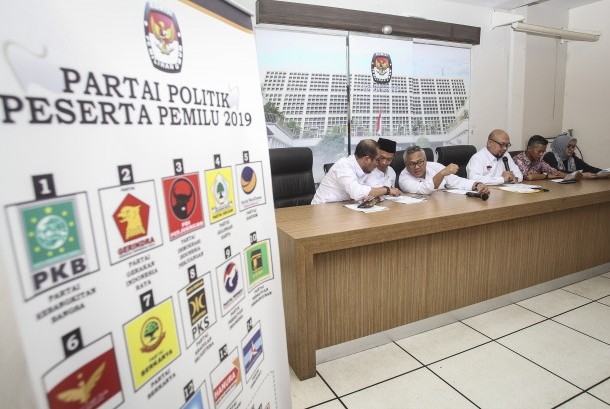 KPU Chairman Arief Budiman (third left) announces names of former corruption convicts running in legislative election, at KPU office, Jakarta, Wednesday (Jan 30) night.
He explained further, of the 16 political parties participating in the 2019 Election, there were 12 parties which had former corruptors on the list of legislative candidates. The three parties that had the most ex-corruptors as legislative candidates were Golkar Party (8 candidates), Gerindra Party (6 candidates), and Hanura Party (5 candidates).
Meanwhile, there were no ex-corruptors in the four parties. The four parties were National Awakening Party (PKB), Nasdem Party, United Development Party (PPP) and Indonesian Solidarity Party (PSI).
KPU Commissioner, Ilham Saputra, explained that later, KPU will announce legislative candidate which had status as ex- convicts of other criminal cases. " It will be announced in the near time. We still check the datas," Ilham said.
KPU's announcement was appreciated by Corruption Eradication Commission (KPK). "The people can obtain information for choosing representatives which are clean, honest, not those who have been involved in corruption," said Deputy Chairman of KPK Alexander Marwata.
KPK also planned to announce the list of candidates which were former corruption convicts on the KPK's official website. It was also possible that the information would be displayed at the polling station (TPS) in accordance with their respective electoral districts.
"This is not for humiliating them, we are conveying the facts," Alexander said again.
Speaker of House of Representatives (DPR RI) Bambang Soesatyo allowed legislative candidates which were ex-corruptors to take legal steps if they felt disadvantaged with KPU's announcement.
"We leave it to the disadvantaged parties to review the law and allow them to take the necessary steps," Bambang said at the Parliament Building, in Jakarta, on Thursday (Jan 31).
He explained that KPU had legitimate task to announce this informations to public. The parliament, as a legislative body which chose KPU commisioners, has given the authority to KPU to publish this informations. However, the legislative candidates also had constitutive rights to be elected or elected as citizens.