REPUBLIKA.CO.ID, CENTRAL LOMBOK -- The newly inaugurated Special Economic Zone (KEK) Mandalika in Central Lombok Regency, West Nusa Tenggara Province has many tourism attractions to indulge local and foreign tourists.
Not only the beauty of the beach and charming hill clusters, Mandalika also offered contemporary art tourism spot for the millenial generation.
The Upside Down House (Rumah Terbalik) is one of new destination that worth visited at Kuta Main Street. Its location not far from Kuta Beach Mandalika.
The distance bestance between Kuta Beach Mendalika and the Upside Down House is not more than 1.1 km, or just about five minutes ride by car.
Kuta Main Street itself became one of the crowded points, because the number of restaurants and cafes that never deserted from many foreign tourists.
The Upside Down House owner is Etik Purwanti (29). She established this new tourist attraction as one of the alternative for tourists, besides the natural attractions in Mandalika.
"Many young people are happy with this kind of tourist attractio. They can have fun while taking pictures to be shared and shown on their social media," Etik said on Sunday (Oct 22).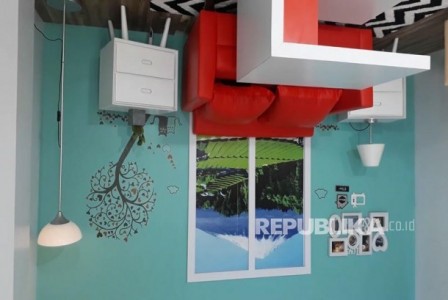 One of the rooms at Upside Down House, Kuta Main Street, Lombok, West Nusa Tenggara Province. Republika/Muhammad Nursyamsi
At Upside Down House, there were a number of rooms with a variety of themes starting from bedroom, office, nursing room, toilets, salon, kitchen, living room, to gas station.
Etik said she was inspired by similar tourist attraction in Bali and Yogyakarta.
Since the establishment of Upside Down House, she said tourists in Lombok did not need to go all the way to Bali or Yogayakarta to feel the excitement. They now could take pictures in identical upside down house poses.
Although the Upside Down House in Lombok just made soft opening in July, the interest of tourists from the domestic young generation was quite visible. Meanwhile, foreign tourists seemed a little confused because they think this was a hotel.
Interestingly, Upside Down House also provides a 9D mini cinema with capacity of 12 people. The rate is about Rp40 thousand per person.
In addition, there was also a mini cinema with a capacity of 20 people which served movies as requested. Visitors only charged Rp50 thousand to enjoy the film.
Etik confessed, she still wants to improve a number of facilities at the Upside Down House. For example, the floors where visitors walk would be decorated interior with 3-dimensional images.
People who wanted to enjoy the Upside Down House in Lombok can spend about Rp 60 thousand for adults, and Rp 30 thousand for children. They all could take unique pictures at this place everyday from 10 am until 7 pm (Indonesia Central Standard Time/WITA).