Lion Air aircraft crashes into Tanjung Karawang waters 13 minutes after takeoff.
REPUBLIKA.CO.ID, JAKARTA -- The Raden Said Sukanto National Police Hospital's Disaster Victim Identification (DVI) team members handed over four coffins containing bodies of victims of the Lion Air plane that crashed into the Java Sea on Oct 29. The four corpses, identified as Nurul Dyah Ayu, Ubaidillah, Dr Ibnu Fajar Riyadi, and Matthew Darryl Bongkal, were claimed and taken by their respective families for burial on Wednesday morning, National Police spokesman Sen. Coms. Yusri Yunus stated.

Ayu's coffin was transported to her family in Kebon Jeruk, West Jakarta, while the coffin containing the body of Ubaidillah was moved to the Manggala Wanabakti Building in Central Jakarta, he revealed. Meanwhile, Riyadi's coffin was taken to the house of his mourning family in Sukmajaya, Depok, West Java Province, and that of Matthew Darryl Bongkal was moved to the mourning house of Atmajaya in Pluit, North Jakarta, Yunus said.

In the aftermath of the deadly crash of Lion Air flight JT 610, the RS Sukanto National Police Hospital has received 185 body bags containing body parts of the victims and 23 bags containing their personal belongings.

On Tuesday evening, the DVI team members had identified 17 victims, including 32-year-old Wahyu Alldillah; Imam Riyanto aged 44; Mawar Saryati and Cosarianda Sahap, both 39 years of age; and 45-year-old Doni, through their fingerprints and Deoxyribonucleic acid or DNA.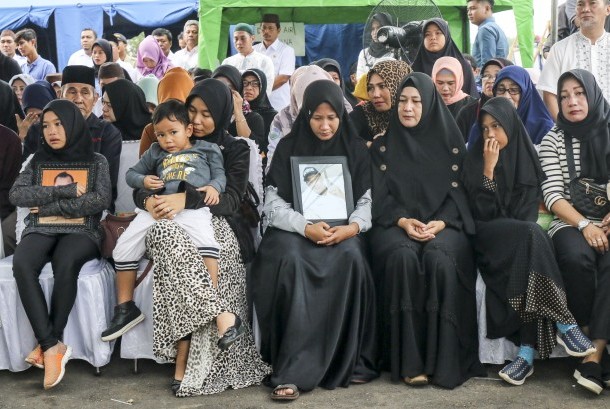 Families and friends of Lion Air JT 610 crash victims waited for the arrival of the coffins at Depati Amir Airport, Pangkalpinang, Bangka Belitung, Wednesday (Nov 7).
The Lion Air flight JT 610 crashed into the Java Sea off Tanjung Karawang, West Java, 13 minutes after taking off from Cengkareng's Soekarno-Hatta International Airport at 6:20 a.m. local time on its way to Pangkalpinang on Monday (Oct 29). The Boeing 737 Max 8 aircraft, carrying 189 people on board, reportedly lost contact at 6:33 a.m. local time.

In connection with the related authorities' endeavor to unearth the causes of the Lion Air plane crash, Indonesian divers had succeeded in finding the ill-fated Lion Air plane's flight data recorder, or the plane's first black box, on Nov 1.

In another development, the National Search and Rescue Agency (Basarnas) has extended the period of evacuation operation for three days to help find the remaining bodies of the victims and the cockpit voice recorder, or the other black box. The team is also still attempting to find the plane's fuselage.
sumber : Antara