Megawati calls on PDIP cadres to not spread hoax and hate speech.
REPUBLIKA.CO.ID, JAKARTA -- Megawati Soekarnoputri, founder and chairperson of the Indonesian Democratic for Struggle (PDIP), called on the ruling party's cadres to win the upcoming presidential and legislative elections to be held on April 17, 2019. Efforts to win the elections should be carried out constitutionally, she stated.
"I ask all PDIP cadres to win in a dignified way, not by spreading hoax, hate speach and so on," she remarked at the the 46th anniversary of PDIP in Kemayoran, Jakarta, Thursday.
President Joko Widodo (Jokowi) attended the event. Jokowi entered the meeting room along with Megawati at the Hall C3 and B3-B2 of the Jakarta International Expo (JI-Expo), Kemayoran.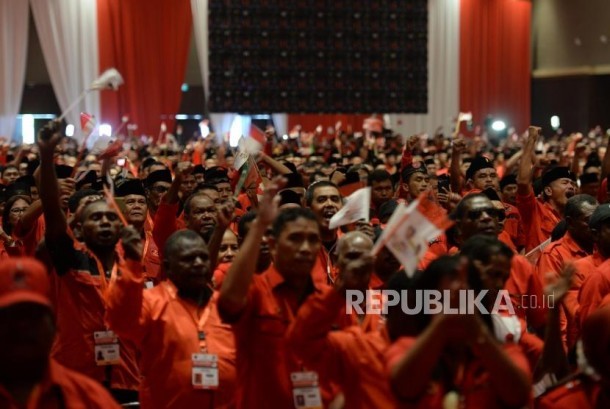 Indonesian Democratic Party of Struggle (PDIP)'s cadres attends the 46th anniversary of PDIP at JI-Expo, Kemayoran, Jakarta, Thursday (Jan 10).
Also present at the event were Vice President M. Jusuf Kalla, Speaker of the House of Representatives Bambang Soesatyo, Head of the People's Consultative Assembly Zulkifli, Chief of the National Intelligence Agency Budi Gunawan, and Head of the Presidential Staff Office Moeldoko.
Vice Presidential Candidate Ma'ruf Amin and former vice presidents, Try Sutrisno and Hamzah Haz, also attended the gathering.
Indonesia will organize the presidential elections, considered by many as a repeat of the bitter 2014 presidential race, wherein incumbent Jokowi and Prabowo Subianto are again set to go head-to-head.
Seeking a second term, Jokowi, a PDIP cadre and furniture businessman, has picked Ma'ruf Amin, chairman of the Indonesian Ulema Council, as his partner, while retired general Subianto has chosen Sandiaga Salahuddin Uno, a young and successful entrepreneur and former deputy governor of Jakarta, as his running mate.