Jakarta Governor says losses caused by traffic jam is higher than the president said.
REPUBLIKA.CO.ID, JAKARTA -- DKI Jakarta Governor Anies Rasyid Baswedan said traffic congestion in Jakarta and surrounding areas (Jakarta, Bogor, Depok, Tangerang, and Bekasi; Jabodetabek) caused losses of Rp 100 trillion annually. It was higher than the figure stated by the President Joko Widodo after holding a limited meeting with several heads of the Jabodetabek regions recently.
Anies said that Vice President Jusuf Kalla corrected the figure when the meeting started. He said Jakarta government also had the same figure, which was Rp100 trillion, not Rp65 trillion.
"It was really big," Anies said at the Jakarta City Hall on Wednesday (Jan 9).
The central government also briefly showed several cases regarding transportation arrangements. The meeting participants then realized it was very difficult to regulate public transportation in Jakarta.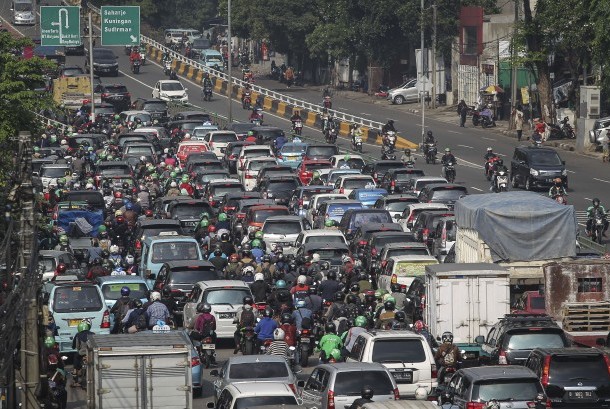 Traffic congestion at KH. Abdullah Syafei street, Jakarta, Monday (Jan 7).
Anies said transportation integration could not be realized when each authorities run their own policy. The central government, Anies said, asked him and other regional heads to consolidate and made the resources available.
"One of the main reasons for consolidation is that sometimes we have the authority, but no resources and vice a versa. So transportation integration can not be realized, "Anies said.
Thus, at a limited meeting last Tuesday, the central government urged Anies to consolidate Jakarta's transportation with its surrounding areas. Anies stated his readiness to consolidate the transportation integration in the Jabodetabek areas.
Anies said, at the limited meeting they also discussed about about the plan to merge the transportation. It was important as it reflects regional planning.
By merging it, Jakarta provincial government could regulate mass public transportation in the region. Managing the public transportation would be easier then, he said.
Anies said, Jakarta, for example, could expand the facilities, such as by building parking lots. According to him, parking lots can be built not only in Jakarta area, but also outside Jakarta.
"For example, in the most congested area where there is already an MRT train, we can increase the parking fee. Later, if parking lots available close to the LRT or MRT stations, we can provide a cheaper parking fee . When it becomes one policy, we can do that," he explained.
Transportation Policy Analyst and Chairperson of the Jakarta City Citizens Forum (FACT), Azas Tigor Nainggolan asked Jakarta provincial government to immediately establish the integration of mass public transportation services. So, it becomes the people's choice of transportation and ease the people mobility.
"Currently the Jakarta Provincial Government has not yet built a comprehensive integration system of mass public transportation. Provincial government should cooperate with the Jabodetabek Transportation Management Agency (BPTJ) to build an integration of mass public transportation services in Jakarta and surrounding cities," Tigor said in a statement received by Republika.co.id on Wednesday.