Novel Bamukmin says three millions people involved in 212 Alumni Reunion Rally.
REPUBLIKA.CO.ID, JAKARTA — The 212 Alumni Reunion went peacefully and smoothly on Sunday (Dec 2). No security disturbance occured although big masses involved on the event held at National Monument (Monas) area, Central Jakarta.

The event is expected to strengthen the spirit of Muslims in this political year. Masses were seen coming since early morning on Sunday. They sung yells and raised tawheed (Laa Ilaha Ilallah, the oneness of God) flags.
The ways to location of 212 Alumni Reunion become more crowded before finally it could not be crossed by vehicles as participants thronged the area. Participants came not only from Jakarta and surrounding areas, but also from Sumatra and other regions.

"This the moment of the unity of Muslims throughout Indonesia to constantly foster our da'wah struggle," said Nato, a participant of 212 Alumni Reunion from Bandung Regency, West Java.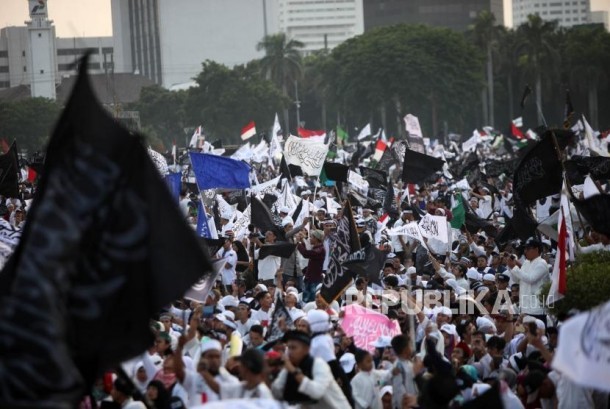 The 212 alumni thronged the National Monument (Monas) square for a reunion in Jakarta on Sunday (Dec 2).
According to Nato, 212 Alumni Reunion is a rally that really awaited by Muslims in Indonesia. The 212 Reunion becomes an event for hospitality with Muslims from Sabang to Merauke.

Meanwhile, on the main stage of 212 Alumni Reunion, a series of agendas were carried out since fajr. Among the agendas were remembrance, celebration of Maulid Nabi Muhammad SAW (the birthday of Prophet Muhammad peace be upon him), and speeches from ulemas, clerics, and noted figures.

Speech also delivered by ulema from Palestine, Taisir Hamdan Sulaiman, also Jakarta Governor Anies Baswedan. He thanked God for the ability to fullfil some promises as capital city leader.

"Alhamdulillah one year down for the 'trip' in Jakarta. One by one of the promises, Insya Allah (God will) to be fulfilled," Anies said.

Anies expected 212 Alumni Reunion participants to maintain order, not only for this event, but also on their way home. It was in order to convey the message that the participants of the action are people fighting for unity and justice.

The 212 Alumni Reunion spokesman, Novel Bamukmin said there were at least three million people who attended the event. He stressed the reunion as a momentum of togetherness and full of peace. In addition, the event also related to commitment of Muslims to keep 2019 presidential election peaceful.

"There is no other flag, except Red and White flag and tawheed flag," Novel said.

A number of political figures also attended 212 Alumni Reunion. They are a presidential candidate number 02 Prabowo Subianto and People's Consultative Assembly speaker Zulkifli Hasan.

The masses of 212 Alumni Reunion started to disperse in the afternoon. They cleaned up the garbage left.
"From the predictions and coordination of relevant stakeholders, the event on Dec 2 is managed properly, so that the situation can take place safely and conducively. The community is increasingly aware and smart that security is a shared responsibility," said National Police spokesman Dedi Prasetyo.