Prabowo Subianto attends the 212 Alumni Reunion on Sunday.
REPUBLIKA.CO.ID, JAKARTA -- Masses of the 212 Alumni Reunion in the National Monument (Monas) Square on Sunday greeted Prabowo Subianto with the 'Long Live' chant raising thumbs and index fingers up to form number two. The presence in the event of Prabowo, the presidential candidate number 02 in next April presidential race, attracted the attention and enthusiasm of the 212 alumni reunion masses.

The participants of the 212 alumni reunion gathering raised their thumbs and index fingers up to form number two as if they wanted to show political support as Prabowo arrived at in the location. The masses who had thronged the Monas areas since the wee hours on Sunday yelled uninterruptedly "Long Live" Prabowo as the presidential candidate entered the Monas area.

Prabowo was accompanied by a number of political leaders and the organizers of the 212 Alumni Reunion rally. He shortly afterwards delivered a brief speech for about three minutes on the stage and refused to carry out a campaign.

"As you know, I have received the mandate as a presidential candidate, and therefore I must obey and follow all provisions, I may not speak politics on this occasion, I may not campaign. So I just want to say thank you for I was invited today by the committee," said Prabowo.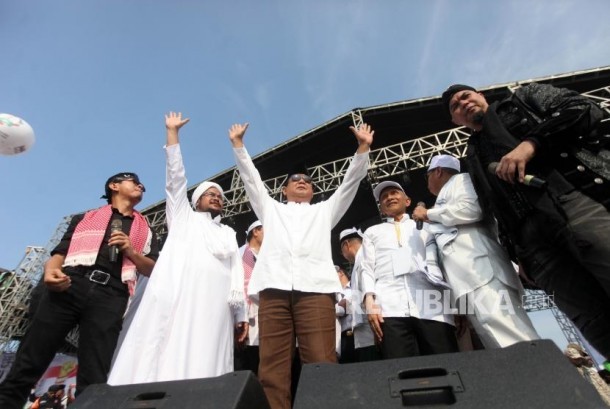 Presidential candidate number 02 Prabowo Subianto (center) attends the 212 Reunion Rally at Monas square, Jakarta, Sunday, (Dec 2).

Shortly after delivering a speech, Prabowo left Monas. The committee expressed their pride to Prabowo who was considered to have kept his promise not to campaign in the Reunion 212 event.

The 212 Reunion masses slowly began to disperse and move to leave the Monas area, yet there were some who remained to attend the 'dhuzur' (noon) prayers. Novel Bamukmin, the event chief organizer, said the rally had no political purpose. It is basically a religious tourism and effort to uphold 'tawheed' (faith in one God).

"There is no political element. We do not allow other flags to fly, besides Merah Putih and the Tawheed flag. We do not allow party flags," said Novel.

The 212 rally alumni was established to gather people who were involved in the rally on Dec 2, 2016 to call for the prosecution of then-Jakarta governor Basuki Tjahaja Purnama or Ahok for blasphemy.
sumber : Antara