Jokowi says two-state solution will end Palestinian-Israeli conflicts.
REPUBLIKA.CO.ID, SINGAPORE -- Indonesian President Joko Widodo (Jokowi) emphasized that a two-state solution was the only peaceful way to ensure an independent Palestine. He stated that while addressing ASEAN leaders and US Vice President Mike Pence during the sixth ASEAN-US Summit.
"To achieve just and permanent peace, the only way is ensuring that peace is created based on the two-state solution," Jokowi noted in his speech at the meeting taking place on the sidelines of the 33rd ASEAN Summit here on Thursday.
The two-state solution will end the Palestinian-Israeli conflicts, which will help create peace and stability in the Middle East and entire world, Jokowi remarked. He added that the Palestinian issues were crucial for Indonesia's diplomacy.
Hence, Jokowi urged all parties to pay further attention to a collective endeavor to resolve Palestinian-Israeli issues through the two-state solution, as it was believed to be able to bring lasting peace and justice to the region.
Indonesia has been known as one of the staunch supporters of the Palestinian people's unfinished struggle for independence. Jakarta's political stance on the Palestinian issues has also remained unchanged since the era of President Soekarno.
In 1962, this founding father of Indonesia had uttered a statement, which then served as a guiding beacon in the Indonesian foreign policy on Palestinian issues.
"As long as the freedom of Palestine has yet to be returned to the Palestinians, it will forever be for Indonesia to stand in defiance against the occupation by Israel," President Soekarno stated.
Regarding the Palestinian-Israeli conflicts, the Israeli military might again demonstrate its brutality by launching air strikes on the Gaza Strip this week. As a result, at least five Palestinians were killed and the Gaza television station was destroyed, according to Al Jazeera.
In return, an Israeli citizen was killed by the Palestinian fighters' rockets. On Wednesday, Al Jazeera had reported that Israeli Defense Minister Avigdor Lieberman resigned in protest against the Egyptian-mediated ceasefire that the Israeli Government made with Hamas in Gaza.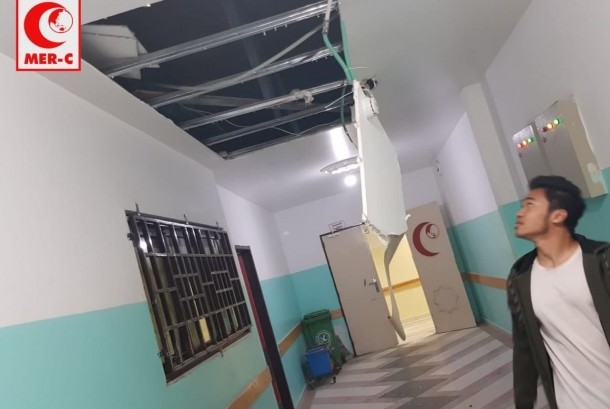 Indonesian Hospital in Gaza Strip incurred damage caused by the Israeli jet fighters in October.
In October, the Indonesian Hospital in Gaza Strip incurred damage caused by the Israeli jet fighters, which launched air raids in retaliation against rockets fired at southern Israel. Indonesia's government condemned the attacks that damaged the Indonesian Hospital.
"Indonesia will continue to stand along with the people of Palestine in their fight for independence. We do not retreat," Jokowi noted in a statement on the Israeli air strikes last October.