Lion Air JT 610 aircraft crashes into Tanjung Karawang waters on Monday morning.
REPUBLIKA.CO.ID, JAKARTA — Black box of Lion Air flight JT 610 has been found on Thursday (Nov 1). The evacuation process of the black box carried out by divers from Indonesian Military (TNI) Navy.
However, it was not an easy operation. The black box was covered with mud while the current was quite strong.
"It was muddy down there so it was kind of difficult. Debris of the aircraft was everywhere," First sergeant Hendra of the Navy told reporters in Karawang waters, West Java on Thursday (Nov 1).

The black box was found around 10.15 Western Indonesia Standard Time. The divers found it 500 meters away from the last location the aircraft detected by radar.
They unearthed the black box 30 meters beneath the sea surface by using remotely operated vehicle (ROV) owned by the Baruna Jaya I ship. Initially, ROV found fragments of a fuselage and a scarf, which suspected owned by one of the victims.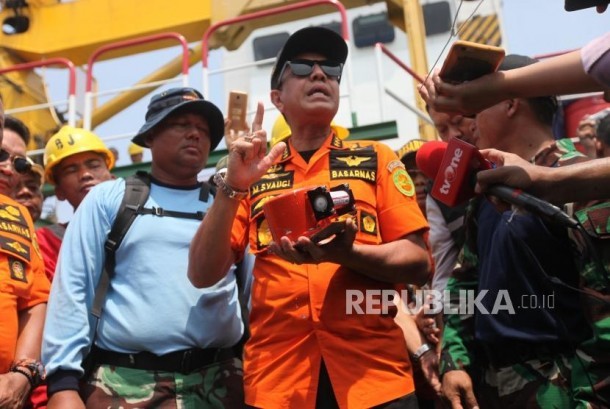 National Search and Rescue Agency Chief M Syaugi shows the black box of Lion Air flight JT-610 found in Karawang waters, at Baruna Jaya 1 ship, West Java, Thursday (Nov 1).
Team then brought ping locater to track the signal from the black box. Divers of the Underwater Rescue Service (Dislambair) also found parts of victims bodies. In addition, fragments of fuselage also has been found.
Search and Rescue (SAR) Lion Air JT 610 operation team representative Isswarto said the black box has been sent to National Transportation Safety Commission (KNKT) using Baruna Jaya 1 ship.
Also read: BPPT ship finds indication of JT 610 black box signal

Aircraft type B737-8 Max with Flight Number JT 610 owned by Lion Air was flying from Soekarno Hatta Airport in Banten to Depati Amir Airport in Pangkalpinang reported to have lost contact on Oct 29 at around 06:33 WIB (Indonesia West Standard Time). The aircraft, which bore the registration number PK-LQP, was reportedly last sighted on radar at coordinates 05 46.15 S - 107 07.16 E.

The aircraft departed at 06:10. WIB and was scheduled to arrive in Pangkal Pinang at 07.10 WIB. The plane had requested a return to base before finally disappearing from the radar.

National Search and Rescue Agency (Basarnas) has ensured that JT 610 Lion Air crashed in the waters of Karawang Regency, West Java. Victims of the aircraft crash will be evacuated to the East Jakarta Police Hospital.