Police asks the people not to drag SARA issues in Persija's fan death.
REPUBLIKA.CO.ID, JAKARTA — A video of Haringga Sirila, a supporter of Persija Jakarta, being beaten to death by several fans of the Persib Bandung team went viral in social medias. One of the video showed assailants beat Haringga while shouting kalimah tawheed.
The police has investigated the video and denied there was 'Laa Ilaha Ilallah' sentence shouted during the attack on Haringga.
"There was no (tawheed sentence shouted). Don't bring any issue in this incident," said Wast Java Police spokesman Trunoyudho Wisnu Andiko when confirmed by Republika.co.id, on Tuesday (Sept 25).
Police did not find tauhid sentence during the investigation. Trunoyudho called on the people to not draw any issues into Haringga's death case, especially tribal affiliation, religion, race, and societal groups (SARA) issues. He ensured the case was purely a criminal case.
"West Java Police is objective, proportional and professional based on the Criminal Procedure Code (KUHAP) for the investigation and further investigation process," Trunoyudho added.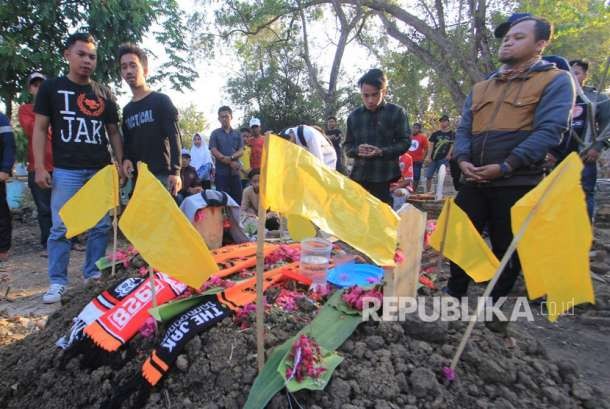 Several Persija supporter visit Haringga Sirila tomb in Indramayu, West Java, Monday (Sept 24). The Jakmania member and Persija supporter killed by Persib supporters in the courtyard of the Bandung Lautan Api sports stadium in the West Java provincial capital of Bandung on Sunday (September 23).
Earlier, spokesman of the National Police Inspector General Setyo Wasisto has reminded the people not to spread hoaxes on Haringga's death. The call came as a response to circulation of fake news on social media stating that drivers of vehicles with specific license plates were warned against passing by on certain roads.
"Do not spread rumors. We are tracing you, and will take legal action against those spreading fake news," Setyo said here on Monday.
Haringga was beaten to death near Gelora Bandung Lautan Api stadium in Bandung. He was punched, kicked, and some of assilants used tools to beat him, Hundreds of bystanders did not come to his aid.
In Haringga's death case, police have arrested eight suspects. They are Goni Abdulrahman (20), Aditya Anggara (19), Dadang Supriatna (19), SMR (17), DFA (16), Budiman (41), Cepy Gunawan (20), and Joko Susilo (31). They are charged under Article 170 Criminal Code
(KUHP).