SBY says Asia Sentinel has published a fake news that damaged his reputation.
REPUBLIKA.CO.ID, JAKARTA -- A Special Staff for Communication of the President, Johan Budi, denied that the palace had links with the Asia Sentinel, referring to reports of a conspiracy to steal US$12 billion worth of state money. He said the allegation has no basis.
"I don't think there is a relationship at all; where is the conclusion of the backing? There must be valid data or correlation, and then it can be concluded that there is a relationship with the Palace," Budi said, answering reporters' questions at the Presidential Palace complex here on Tuesday.
He hoped that all parties would not directly link the Asia Sentinel report, which touched on the Susilo Bambang Yudhoyono (SBY) administration, with the Palace. He asserted there was a problem between the Palace and SBY.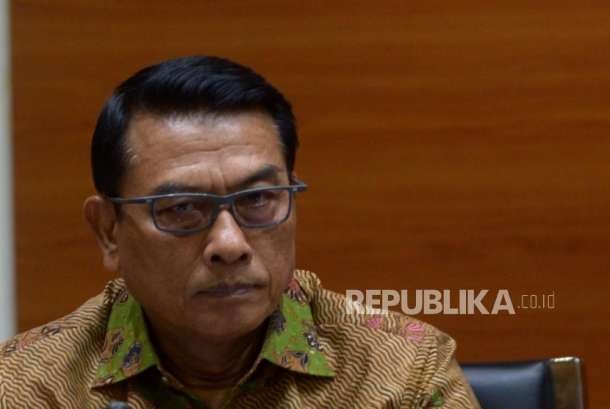 President's Chief of Staff Moeldoko
Regarding the photos circulated of President's Chief of Staff Moeldoko with the Asia Sentinel Editor, Budi said he was not aware of the meeting. "Maybe there are lots of meetings. That's the term, 'jumping to conclusions'," he said.
Previously, in its report, the Asia Sentinel news page mentioned a conspiracy to steal $12 billion of state money involving 30 state officials and washing it through international banking. The report, entitled "Indonesia's SBY Government: Vast Criminal Conspiracy" written by John Berthelsen stated that there was a link between the Democratic General Chairman of SBY and the Century Bank case.
Meanwhile, the Democratic Party leader, Susilo Bambang Yudhoyono, has pledged to hunt a slanderer, who has written and published a fake report in news website Asia Sentinel recently till the end of the world. He said the fake news recently published by the Hong Kong-based news website had damaged the reputation of himself and the Democratic Party.
"Our country is a state of law, not a state of violence. I ensure that we are going to use our legal rights to solve this case. We are chasing the slanderer till the end of the world," SBY, told his party's cadres at an occasion for commemorating the Democratic Party's 17th anniversary here, on Monday evening.