Prabowo signs integrity pact prepared by the ulemas.
REPUBLIKA.CO.ID, JAKARTA -- Ulemas in an Ijtima II meeting in Jakarta on Sunday expressed support for presidential contender Prabowo Subianto and his running mate, Sandiaga Uno for the next year's election. The Ulemas Ijtima II lent its support after Prabowo who is a former commandant of the Army's elite strike force Kapassus, signed an integrity pact made by the Ulemas.

Prabowo who arrived at the meeting about 1 p.m. was not accompanied by Sandiaga. He signed the pact at about 2.30 p.m.
The Ulemas Ijtima II forum, according to Habib Rizieq Shihab who delivered a message in screen played during the meeting, has three main agenda. First was to hear the explanations of Prabowo on his decision to pick up Sandiaga Uno as his running mate, instead of Muslim scholar ustaz Abdul Somad or Salim Segar Al Jufri as recommended by the Ulemas Ijtima I meeting. This was intended to prevent frictions and suspicions among ulemas and the Muslim community.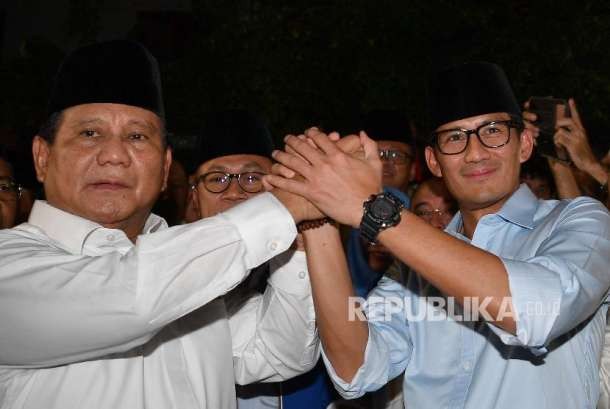 Gerindra Party chief patron Prabowo Subianto (left) holds hands with his running mate in 2019 presidential race, former deputy governor of Jakarta Sandiaga Salahuddin Uno after declaring their candidacy at Prabowo's residence at Jalan Kertanegara, Jakarta, Aug 9 night.

Second was that the signing of the Integrity Pact by the presidential pair up was a form of strong binding agreement between the two sides. Third was to arrange steps and strategy for the victory of the Prabowo-Sandiaga as presidential and vice presidential candidates in the presidential race in 2019.

On the occasion, Prabowo told the press that on behalf of the Prabowo-Sandiaga Uno pair, he thanked the Ulemas Ijtima II of the National Movement to Safeguard Ulema's Fatwa (GNPF Ulama), on the trust they had given to the presidential hopeful. "The honest support given to us is very touching for me and I promise to the Ulemas Ijtima that I will contribute all my spirit and sole to do the best for the nation and state of Indonesia," Prabowo told the press conference.

Meanwhile, at the event were also present the Chairperson of the National Mandate Party Zulkifli Hasan, Secretary General of the Prosperous Justice Party Mustafa Kamal and Secretary General of the Berkarya Party Priyo Budi Santoso, Eggi Sudjana and Deputy Chairperson of the Gerindra Party Fadli Zon.
sumber : Antara