Five policemen died in the riot at Mako Brimob prison.
REPUBLIKA.CO.ID, JAKARTA — The mastermind of deadly attack at National Police's Mobile Brigade Headquarters (Mako Brimob) in Depok, West Java, Wawan Kurniawan aka Abu Afif was sentenced 11 years imprisonment by West Jakarta District Court on Thursday (Sept 13). The sentence was based on his action that committed terrorism act.
"Panel judges stated that Wawan Kurniawan aka Abu Afif has been proven legally committing criminal act of terrorism. Secondly, imposing a criminal sentence on defendant with 11 years imprisonment," said presiding judge Soehartono on Thursday (Sept 13).
However, the sentence was two years lighter than prosecutor's demand that asked Wawan to be jailed for 13 years. Wawan was proven to violate Article 15 in conjunction with Article 7 Law No. 15/2003.
Also read: Tito reveals loophole in securing armament at Mako Brimob
On the facts of the trial, Wawan was also proven to have led a group that had a connection with Islamic State (IS). When he planned his terror act, he also had prepared homemade firearms and soft gun water guns.
Wawan also supplied sharp weapons, in order to prepare attack at Mako Brimob in last May. He was one of terror convicts at that time.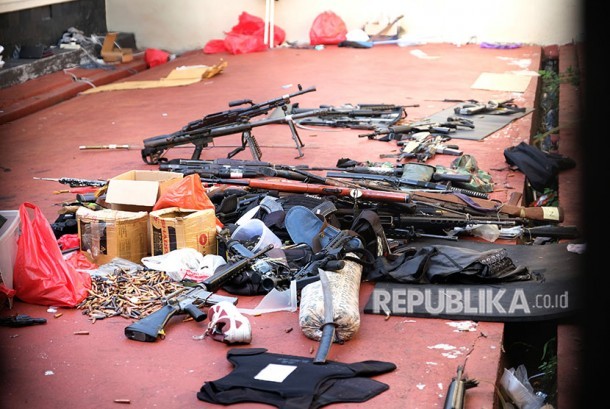 Armament left by terror inmates in one of the rooms at Mako Brimob Detention Facility, Kelapa Dua, West Java, on Thursday (May 10).
A clash broke out at the headquarters after some terror convicts had quarreled with the detention guards over a food package. In accordance with the police's standard operation, all food for the inmates should be checked and sterilized, because it must not contained forbidden materials.
However, the food-checking procedure led into a deadly riot, after some terrorist convicts disarming the police officers, and capturing them as hostages at a block detention inside the headquarters. Following the riot, five police officers and one terror detainee were killed on Tuesday night.
Meanwhile, Wawan who attended the hearing expressed his rejection over panel judges decision. He said was not pleased with the sentence.
"I'm not plased with the sentence, defines, and the rules that made by humans. I only follow Allah SWT rules," Wawan said.