Indonesia has collected its 15th gold medal on Monday.
REPUBLIKA.CO.ID, JAKARTA —Host Indonesia made a great success on the ninth day of the 18th Asian Games 2018 on Monday by adding 10 more gold medals to its gold medal standings to 22. Indonesia has exceeded its target of 16 for the ongoing biggest Asian sporting events.
President Joko Widodo (Jokowi) then commented on the gold medals achievement by Indonesia. He was grateful Indonesia has reached its 16 gold medals target in 2018 Asian Games.
"We have a week more in Asian Games 2018 and our athletes have exceeded the 16 gold medals target. Today, Indonesia has bagged 22 gold medas, eight from pencak silat. And the medals hunting is still going on. Alhamdulillah," Jokowi tweeted on Monday (August 27).
Jokowi said the opportunity to win gold medal is not only from pencak silat. There are many sport branches in the event, such as badminton, karate, jet skiing, rock climbing, and canoeing.
Indonesia managed to grab the 10 gold medals consisting of eight from the Pencak Silat events and two from Sports Climbing. On Monday evening, in the climbing sports, Indonesia won two gold medals. Its athlete Aries Rahayu Susanti has earlier clinched the first gold in the sports climbing in the women's speed event.
Monday's climber heroes are Indonesian Team 2 (Muhammad Hinayah, Rindi Sufriyanto, and Abu Dzar Yulianto) that took home the gold in the Men's Group Speed Rally category with a time of 18.68 seconds and Indonesian Team 1 (Aries Susanti Rahayu, Rajiah Salsabilah and Puji Lestari) with a time of 24.45 seconds.
In Pencak Silat, Indonesia on Monday clinched eight gold medals. Of the eight, its athletes Sarah Tria Monita, in the women's C category of 55 kilograms-60 kilograms and Abdul Malik in the Men's B category of 50 kilograms-55 kilograms earned Indonesia two gold medals.
Sarah Tria Monita defeated her Lao rival Nong Oy Vongphakdy, with a score 5-0, while her compatriot Abdul Malik beat his opponent Malaysian Muhammad Faizul M Nasir, with a landslide score of 5-0 during their bout held at the Taman Mini Indonesia Indah (TMII) Pencak Silat competition venue in East Jakarta.
In the men's D category of 60 kilograms-65 kilograms of the Pencak Silat event, Iqbal Candra Pratam snatched a gold medal after beating Vietnamese Ngoc Toan Nguyen.
Earlier in the day, Indonesian martial arts athlete Komang Harik Adi Putra won the gold medal after defeating Malaysia's mainstay fighter, Mohd Al Jufferi Jamari, in the final round of the Pencak Silat (martial arts).
Adi Putra won with a score of 4-1 in men's class E of 65-70 kilogram. Since the first round, Adi Putra managed to master the game by slamming the Malaysian martial arts athlete to the floor twice.
Slamming an opponent to the floor once will earn three points, or the highest point in a martial arts match. In this round, Adi Putra excelled with the acquisition of 10-1.10-2.10.10.8.8-3 points, and 12-4.
Aji Bangkit Pamungkas, was another Pencak Silat athlete who earned Indonesia a gold medal on Monday. He won the gold medal after outplaying Singaporean athlete Sheik Ferdous Sheik Alauddin in the final round of the Pencak Silat event . Aji made a landslide score of 5-0 in the men's class 85 kilograms-90 kilograms. With this gold medal, Pencak Silat event has since on Monday contributed four gold medals to Indonesia in the 2018 Asian Games.
In the men's arts group category, Nunu Nugraha, Asep Yuldan Sani, and Anggi Faisal Mubarok were also successful in taking home the gold medal with a score of 465 points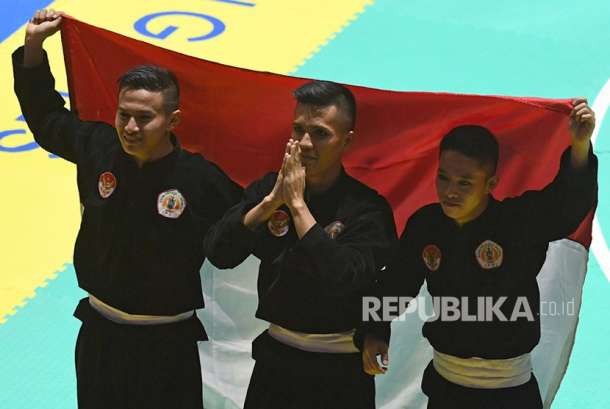 The trio fighters Nunu Nugraha (center), Asep Yuldan Sani (left), and Anggi Faisal Mubarok (right) celebrate their victory after winning a gold medal in the category of men's team of art number at Padepokan Pencak Silat, East Jakarta on Monday (August 27).
.
The group was able to defeat their opponents, including the group from Vietnam, comprising Tien Dung Vu, Xuan Thanh Nguyen, and Van Nam Luu, who won a silver medal, with 450 points, while the group from Thailand of Fadil Dama, Masofee Wani, and Islamee Wani won a bronze medal, with 448 points.
Head of the Indonesian contingent Syafruddin handed over the medals to the winners.
The gold medal won by the group became the 15th gold for Indonesia in the 2018 Asian Games.
Another gold medal was won by Indonesia in Pencak Silat Yola Primadona Jampil and Hendy who achieved the highest score of 580 points in the men's doubles category.
Both athletes in the men's doubles category scored 580 points and defeated their opponents from Vietnam, Duc Danh Tran and Hong Quan Le, who won the silver medal with 562 points, while Mohd Taqiyuddin Hamid and Muhammad Afifi Nordin from Malaysia won the bronze medal, with a score of 560 points.
In fact, Malaysia was tied with Thailand, with both scoring 560 points, but after deliberations and taking into account the movements and strengths, it was decided that Malaysia would come in the third place.
The other gold on Monday was contributed by Puspa Arumsari after achieving the highest point in the Women's Single final. Arumsari's performance earned her the highest point of 467, beating her Singaporean opponent Nurzuhairah Mohammad Yazid who won the silver medial with 445 points, as well her Filipino opponent Cherry May Regalado who won the bronze medal with with 444 points.
Iqbal Candra Pratama contributed the sixth gold medal after beating Vietnamese Ngoc Toan Nguyen in men's D category of 60 kilograms-65 kilograms the Pencak Silat event.
sumber : Antara