PAN fails to persuade Anies Baswedan to be vice presidential candidate for Prabowo.
REPUBLIKA.CO.ID, JAKARTA -- National Mandate Party General Chairman Zulkifli Hasan revealed that the party failed to persuade Jakarta Governor Anies Baswedan to compete in presidential election as Prabowo Subianto's running mate. He shared the fact during the 20th anniversary celebration of PAN on Thursday.

"To the very last seconds, we still were trying to persuade him. Oops, I told the secret," Zulkifli said in front of audiences at PAN headquarters.

Audiences burst out in laughter when hearing his story. Zulkifli said there were some scenarios in determination process of vice presidential candidate of the opposition camp.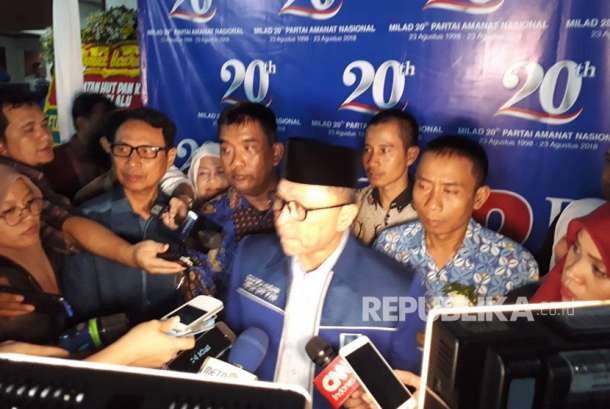 General Chairman of National Mandate Party Zulkifli Hasan holds a press conference on the 20th anniversary of PAN at the party's headquarters, Senopati, South Jakarta, Thursday (August 23).
Zulkifli said, PAN and Prosperous Justice Party (PKS) would be delighted if Anies --who did not join any political parties-- took the offer. On the other hand, if PKS's cadre chosen as Prabowo's running mate then PAN would regret it.

"Meanwhile, PKS would not happy if our cadre advance as vice presidential candidate," Zulkifli said.
Also read: Prabowo to pair with Anies in 2019 General Election?
Furthermore, Zulkifli said, PAN and PKS also would not be happy if Democratic party's cadre paired up with Prabowo. Finally, the Gerindra Party, PAN and PKS agreed to take the middle way. Democratic Party stated its approval in the last minute.

Anies was smiling to hear Zulkifli's story. "Well, this is the way we are. PAN opens the fact as it is," Zulkifli said.
The opposition camp announced the pair of presidential and vice presidential candidate late on Thursday, August 9). Gerindra Party chief patron Prabowo Subianto declared himself as presidential candidate and Sandiaga as his running mate.

"Leaders of three political parties, namely Prosperous Justice Party (PKS), National Mandate Party (PAN), and Gerindra Party have decided and trusted me and Sandiaga to advance as presidential and vice presidential candidate for the 2019-2024 term," said Prabowo in a press conference on Thursday (August 9).

However, Prabowo demanded Sandiaga to give up his post in Jakarta Provincial Government. Sandiaga also should leave Gerindra Party to represent himself as independent candidate.

By doing so, Sandiaga would be more acceptable by all supporting parties. Sandiaga was serving as Jakarta deputy governor and deputy chief of Gerindra Party Board of Trustees.