Sandiaga says soft blue symbolized his wish to a peaceful election.
REPUBLIKA.CO.ID, JAKARTA -- Sandiaga Salahuddin Uno has gave up his post in Gerindra Party leadership ranks following his nomination as vice presidential candidate of the opposition camp. His daily outfit changed since then.
Usually, Sandiaga wore a white shirt and a khaki chino pants. The outfit was an earmark for Gerindra Party cadres and supporters.
Sandiaga then changed his look. He wore a soft blue shirt during declaration on late Thursday (Aug 9) and registration to General Election Commission on Friday (Aug 10).
Could soft blue symbolized the color blend of his supporting political parties' character? Gerindra and Prosperous Justice Party (PKS) were popular with white based uniform, while National Mandate Party (PAN) and Democratic Party were widely known with their royal blue jackets.
According to Sandiaga, he wore soft blue on purpose. It symbolized his wish to a peaceful election.
"Blue is essentially soothing, so the election also must be cool," Sandiaga said.
Wearing a long-sleeved soft blue shirt with folded arm, Sandiaga kept his black cap on. Meanwhile, presidential candidate Prabowo Subianto wore the regular Gerindra Party's outfit, a white shirt and khaki pants. He also used a black cap.
Sandiaga expected the campaign team will have clothings that could attract the people. He was happy to have Democratic Party's Joint Task Force Command Head Agus Harimurti Yudhoyono (AHY) in the coalition.
"I told Pak Prabowo that AHY has brilliant ideas on cloths design, so we must discuss it together," Sandiaga said.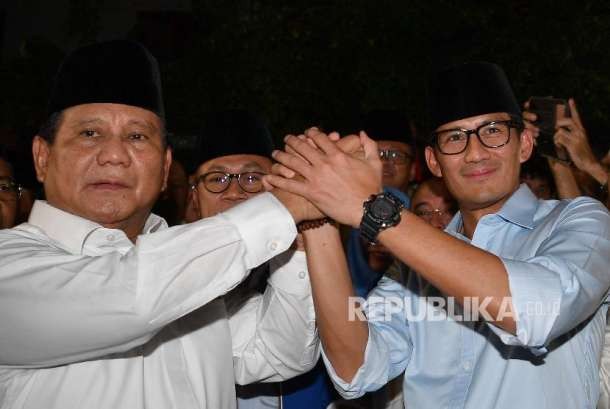 Gerindra Chief Patron Prabowo Subianto (left) holds hands with his running mate in presidential election 2019 Sandiaga Salahuddin Uno following the declaration at his residence at Kertanegara street, South Jakarta, on Thursday (Aug 9) night.
Political observer of Madjid Politika, Yandi Hermawandi, expected presidential election in 2019 will run more peaceful than in 2014. The composition of election participants played a role in soothing the situation.
Incumbent President Joko Widodo (Jokowi) has decided to pair with Nahdlatul Ulama supreme leader and Chairman of Indonesian Ulema Council (MUI) KH Ma'ruf Amin. Meanwhile, the opposition camp offered Gerindra Party Chief Patron Prabowo Subianto as presidential candidate and former Gerindra Party cadre who is also ex-Jakarta Deputy Governor Sandiaga Salahuddin Uno as his running mate.
"Clearly, by looking the composition, there should be no more dispute among Muslims as ahead of the closing days of registration period where tug-of-war occurred between ulemas who support Prabowo and Nahdlatul Ulama's clerics on Jokowi's side," Yandi said.
Yandi believed Kiai Ma'ruf's figure as an ulema could cool down the situation. Moreover, Islamic scholars are respected by the community.
On the other side, Prabowo's decision not to pick other ulema for his vice presidential candidate also paid contribution to prevent division among Muslim community. Yandi said it would heat up the situation if Prabowo paired himself with a figure with Islamic scholars background.
"It could divide the Muslim community," he said.