Jokowi wears a white shirt bearing Bersih, Merakyat, Kerja Nyata and his silhouette.
REPUBLIKA.CO.ID, JAKARTA -- Incumbent President Joko Widodo (Jokowi) prepared a special outfit to be worn when registering to General Election Commission (KPU) office in Jakarta on Friday (Aug 10). He chose to wear a long-sleeved white shirt bearing "Bersih, Merakyat, Kerja Nyata" or "Clean, Populist, Real Work" and his silhouette, while his vice presidential candidate KH Ma'ruf Amin wore a pin with the same design.
Indonesia Democratic Party of Struggle (PDIP) politician Pramono Anung explained a special discussion was held to talk about the bearing on Jokowi's shirt. Jokowi who is seeking for re-election wanted the word "Work" to be used as the basic concept of all his program. Meanwhile, white color was chosen as the main background.
Jokowi created the concept and his team tried to elaborate it. Of nine alternative designs presented by his team, three of it catched Jokowi's attention.
"He chooses three white shirts to be wear on different occasions," Pramono remarked at Presidential Palace complex, Jakarta, on Friday (Aug 10).
Pramono lauded the design of Jokowi's shirt. He believed Jokowi-Ma'ruf success team and supporters of Indonesia Working Coalition would also dressed up the same.
"If it is worn by presidential and vice presidential candidates, usually it will be imitated by all. When Jakarta governor wears checkered pattern, all people wear the same," he said referring to Basuki Tjahaja Purnama "Ahok" era in Jakarta provincial government.
Pramono considered the presidential candidate outfit as important. Other than the black printing with white background shirt that he wore to KPU office, Jokowi also had another colorful shirts.
"This is the millennial era, so the clothes must be attractive to anyone," he said.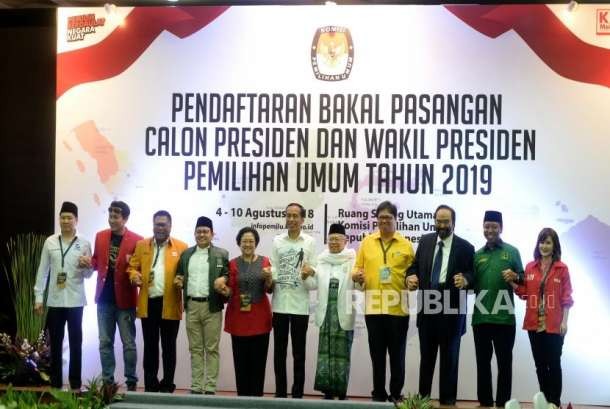 Incumbent President Joko Widodo and his running mate KH Ma'ruf Amin registered themselves as participant of presidential election 2019 to General Election Commission in Jakarta on Friday.
According to fashion design observer Sonny Muchlison, Jokowi's and Ma'ruf's outfits have specific meaning. He observed Jokowi has been consistent using white shirts since 2014.
Jokowi could wear red that represent PDIP's color instead, but he did not. Muchlison assessed it became a strength for Jokowi.
"White shirt symbolizes clean and no intimidation. Neutral, impartial, like a white paper," he said on Friday (Aug 10).
The slogan "Clean, Populist, Real Work" reaffirmed his earlier acts. Muchlison said Jokowi was brave to use the slogan because he believed the promises have been applied.
Meanwhile, Muchlison said the outfit worn by Kiai Ma'ruf was a typical Indonesian Muslim scholars' look. It was a classic style of Indonesian ulemas.
He said Kiai Ma'ruf applied a complete style by wearing a trouser covered with sarong, a suit, keffiyeh around his neck, and a black cap.
"It was an identity of an ulema since President Soekarno era, respected ulema. And, the black cap is a part of Indonesian tradition, not Arabian," he explained.