Prabowo asks Sandiaga to resign from his posts at Gerindra, Jakarta provincial govt.
REPUBLIKA.CO.ID, JAKARTA -- Sandiaga Uno officially resigned as Jakarta deputy governor on Friday (August 10). He also submitted his letter of resignation to DKI Jakarta Regional Legislative Council (DPRD).

"The letter said he resigned as Jakarta deputy governor as dated on August 9, 2018, " said Jakarta Governor Anies Baswedan on Friday (Aug 10).

Meanwhile, Sandiaga explained his letter submitted to DPRD DKI Jakarta. According to him, his resignation was related to his candidacy as vice president for 2019-2024 term, in accordance with Article 78 Law No. 23/2014 on Regional Government.

"I am Sandiaga Salahuddin Uno hereby submit letter of resignation as Jakarta deputy governor for 2017-2022 term since I sign this statement," Sandiaga said.

Sandiaga also attached a cover letter and also a statement to Anies. He then asked Anies to follow up on the statement in accordance with the applicable laws and regulations.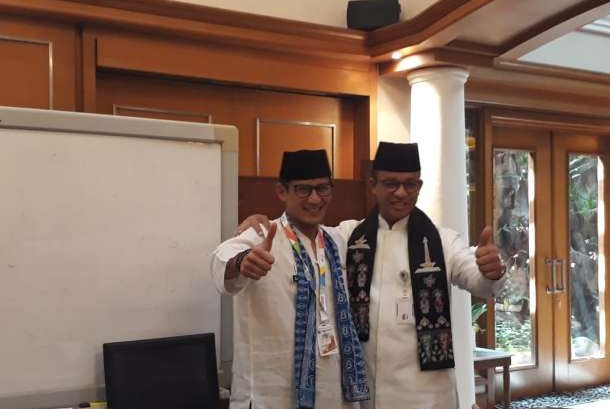 Jakarta deputy governor Sandiaga Salahuddin Uno bids a farewell to Jakarta governor Anies Rasyid Baswedan at City Hall, South Medan Merdeka, Central Jakarta, Friday (Aug 10).

He showed the contents of the letter to media crew. Sandiaga and Anies embraced and posed farewell in front of the media crews.

Earlier, the opposition camp finally announced the pair of presidential and vice presidential candidate. Late on Thursday (Aug 9), Gerindra Party chief patron Prabowo Subianto declared himself as presidential candidate and Sandiaga as his running mate.

"Leaders of three political parties, namely Prosperous Justice Party (PKS), National Mandate Party (PAN), and Gerindra Party have decided and trusted me and Sandiaga to advance as presidential and vice presidential candidate for the 2019-2024 term," said Prabowo in a press conference on Thursday (9/8).

However, Prabowo demanded Sandiaga to give up his post in Jakarta Provincial Government. Sandiaga also should leave Gerindra Party to represent himself as independent candidate.

By doing so, Sandiaga would be more acceptable by all supporting parties. Sandiaga now is serving as Jakarta deputy governor and deputy chief of Gerindra Party Board of Trustees.

"To run as presidential and vice presidential candidate, to win the election, is a part of mandate given to both of us and it is a very big trust," Prabowo said.