Jokowi says Kiai Ma'ruf Amin is an ideal figure to be his running mate.
REPUBLIKA.CO.ID, JAKARTA -- Incumbent President Joko Widodo (Jokowi) has officially declared himself as presidential candidate on Thursday afternoon. He also has decided to pair with NU supreme leader (Rais Aam) KH Ma'ruf Amin in 2019 presidential election.
Jokowi explained he is seeking a second term in the 2019 presidential election after paying attention to advises from ulemas, leaders of political parties, volunteer, and the people. "By saying, Bismillah (In the name of Allah), I decide to run in the election as presidential candidate," he said at Plataran Menteng restaurant, Central Jakarta, on Thursday (Aug 9).
Jokowi said he decided to appoint Kiai Ma'ruf who is also the chairman of Indonesian Council of Ulemas (MUI) after hearing advises from all elements of the society. He explained that his supporting parties have agreed to carry Kiai Ma'ruf as Jokowi's running mate.
According to Jokowi, he chose Kiai Ma'ruf to complete each other. He assessed Kiai Ma'ruf with his track record was an ideal figure to be his running mate.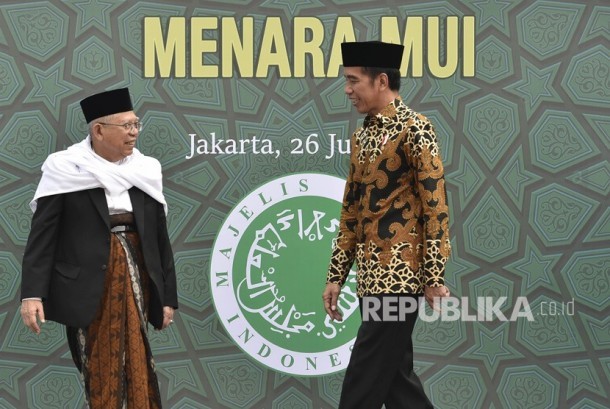 President Joko Widodo (right) and Indonesian Council of Ulemas (MUI) Chairman KH Ma'ruf Amin.
"He was once served as Regional House of Representative member, House of Representative member, Presidential Advisory Council (Wantimpres) member, supreme leader of Nahdlatul Ulama, and chairman of MUI," Jokowi said during the declaration.
Jokowi said he will register to General Election Commission on Friday (Aug 10) at 09.00 am.
Earlier, Jokowi hinted that first letter of his running mate name is "M". Jokingly, he said it could be Mahfud MD, Mbak Puan Maharani, Mas Airlangga Hartarto, or Muhaimin Iskandar.
Mahfud's name was widely mentioned as the most potential candidate ahead of the declaration. He was invited to State Palace to submit administrative requirements. However, Jokowi decided to choose other candidate, namely Kiai Ma'ruf.