Mandalika with its long coastal line suitable for water sports and marathon.
REPUBLIKA.CO.ID, MANDALIKA -- The Asian Games torch relay has arrived in Mandalika special economic zone in Central Lombok District, West Nusa Tenggara Province, on Wednesday. The torch relay is expected to help promote Mandalika as a sport tourism destination.
"We hope the presence of the Asian Games torch in Mandalika will promote this zone not only as a beach tourism destination but also as a sport tourism destination for the public in general, and tourists in particular," Ngurah Wirawan, construction and operational director of PT Indonesia Tourism Development Corporation (PT ITDC), said.
PT ITDC will build various sport facilities as Mandalika as a very long coastal line suitable for water sports and marathon, such as the TNI (Indonesian Defense Forces) Marathon, which will be organized in September 2018, according to him.
Also read: Balinese enthusiastically welcome torch relay
"So, we will change the concept for sport tourism arena, because we have tracks for paragliding, water sports, and surfing. Hopefully, in the next 5 to 10 years, Mandalika will not only remain a tourist destination but also a sport tourism destination," he remarked.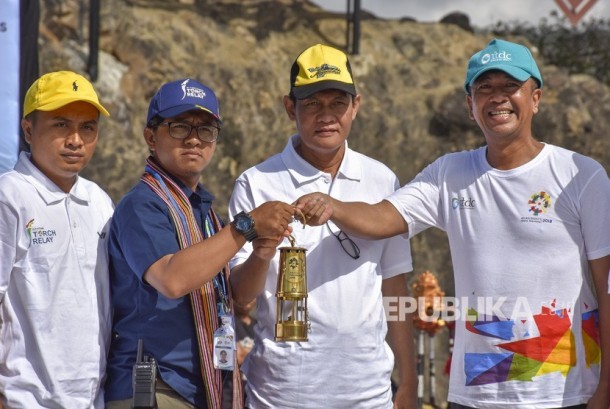 Representative of Indonesia Asian Games 2018 Organizing Committee (INASGOC) Permana Sunu (second left) carries Asian Games 2018 torch along with Operational Director of PT Indonesia Tourism Development Corporation (ITDC) Ngurah Wirawan (right) and District Secretary of Central Lombok HM Nursiah (second right) during torch relay Asian Games 2018 at Kuta Beach Park the Mandalika, Kuta Village, Pujut, Praya, Central Lombok, West Nusa Tenggara, Wednesday (July 25).
The torch relay will tour 53 cities and districts in 18 provinces across Indonesia and involve at least 40 Indonesian sports legends, high-ranking officials, and celebrities, such as badminton legend Susi Susanti, who had visited New Delhi from July 14 to 16 to pick up the torch, and another badminton legend Taufik Hidayat, along with other legendary athletes, namely Budi Hartono, Yustedjo Tarik, Yayuk Basuki, Herman Sembalo, Dian Sastrowardjoyo, and Rochy Putiray.
The 18th Asian Games will be held from Aug 18 to Sept 2 in Jakarta and Palembang, the capital of South Sumatra. It is the first time that the two cities are co-hosting the Games, making it a more challenging task for the organizers.
A total of 16,920 athletes and officials from 45 Asian countries have been registered for the Games. Overall, more than 11 thousand athletes will vie for medals in 40 sports and 67 disciplines.