Mahathir arrives in Jakarta on Thursday evening.
REPUBLIKA.CO.ID, BOGOR -- Accompanied by First Lady Iriana, President Joko Widodo (Jokowi) greeted visiting Malaysian Prime Minister Mahathir Mohamad at the Bogor Presidential Palace here on Friday morning. Mahathir and his entourage arrived at the Bogor Palace at 10:10 a.m. Western Indonesia Standard Time and was greeted by the president in front of the palace.
The Malaysian prime minister was also greeted by numerous students in traditional costumes, who had lined up the street while waving banners of the two countries.
Jokowi and Mahathir, thereafter, held a limited meeting with the delegations of Indonesia and Malaysia, which was followed by a joint press statement.
Mahathir arrived in Jakarta on Thursday evening for an official visit to Indonesia on June 28-29.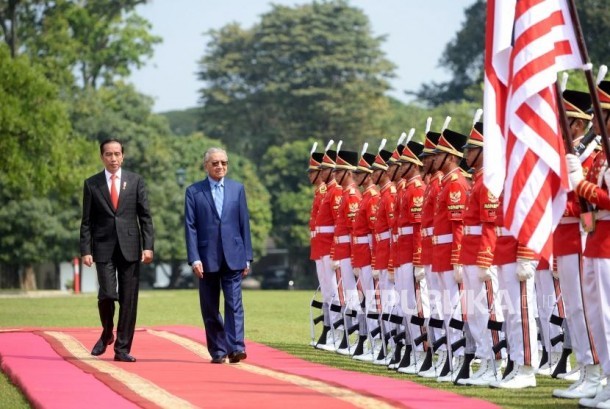 President Joko Widodo (left) and Malaysian Prime Minister Mahathir Mohamad inspect the honor guard at Bogor Palace, West Java, Friday (June 29).
According to the Malaysian embassy, the trip is the first bilateral visit by Mahathir after assuming the prime minister's post for the second time. The visit is expected to serve as a means for the two leaders to deepen bilateral relations and cooperation between the two countries.
Mahathir is also expected to discuss various new policies of his government and his country's stance towards various issues of common concern. The two leaders are also expected to exchange views on regional and global issues of common interest.
Indonesia is Malaysia's neighbor and an important partner. In 2017, trade between the two countries rose 22 percent to US$16.89 billion as compared to that in 2016, making Malaysia the seventh-largest trading partner in the world and third-biggest among members of the Association of Southeast Asian Nations after Singapore and Thailand.