The boat capsized in the waters of Lake Toba on Monday.
REPUBLIKA.CO.ID, SIMALUNGUN -- Directorate General of Land Transportation Ministry of Indonesia Budi Setiyadi headed a meeting to form five teams for handling the shipwreck incident in the waters of Lake Toba, North Sumatra Province. The police-coordinated registration team was formed to provide information on the number of KM Sinar Bangun passengers to the victims' families.
"Currently, 128 people are reported missing and are the possible victims," he stated at the Post at the Port of Tiga Ras Simalungun District on Tuesday.
A total of 19 passengers were found, while one of them named Tri Suci Wulandari died, and others were being treated by medical staff in the districts of Samosir and Simalungun.
The search and rescue team is coordinated by the Indonesian National Agency of Search and Relief (Basarnas). The team studying the cause of the accident is coordinated by the National Agency for Transportation Safety and was to offer an evaluation to prevent recurrence of similar incidents in future.
The post-accident team handling survivors and the dead comprises medical personnel and PT Jasa Raharja. "The heirs of a dead victim will receive an insurance of Rp50 million, and the injured one will get Rp20 million," he added.
The mobilization team will facilitate the return of the victim to the family in accordance with the domicile and is the obligation of the local government.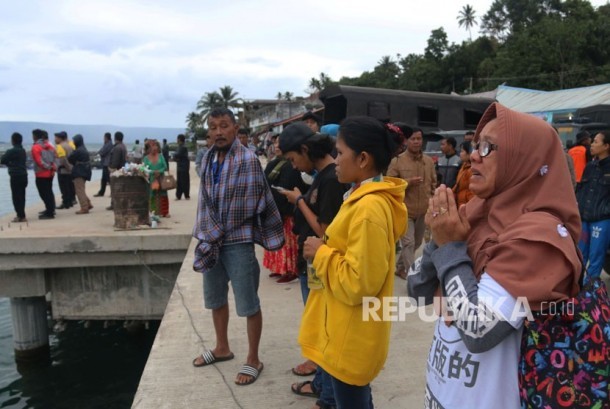 A mother (right) prays for the safety of his children who was one of passengers of KM Sinar Bangun that capsized in the waters of Lake Toba, Simalungun, North Sumatra, Tuesday (June 19).
The Transportation Ministry highlighted the duties and responsibilities of the government to supervise the operation of wooden vessels for the safety of passengers. "Operations of wooden vessel in Lake Toba are under the supervision of the local government," he said.
Earlier, Minister of Transportation Budi Karya Sumadi said he would send a team to investigate cause of accident. "I will send an investigation team to enquire if it capsized due to the boat condition or human error," he told newsmen.
Budi said he has asked boat operators several times to avoid carrying passengers above capacity. KM Sinar Bangun capsized in the waters of Lake Toba on its way from Samosir to Simalungun, North Sumatra, at around 5.30 p.m. on Monday.