Currently, Soekarno-Hatta airport has three train sets.
REPUBLIKA.CO.ID, JAKARTA -- State-owned airport operator PT Angkasa Pura II (AP II) said it plans to use three more train sets of sky train in the Soekarno Hatta International Airport in September 2018. It will to improve mobility of passengers from one terminal to the other.
President Director of Angkasa Pura II, Muhammad Awaluddin said currently the country's largest airport already has three train sets with a carrying capacity of 176 passengers. With the additional units, the airport will have 6 train sets with a carrying capacity of 352 passengers in one way trip.
The additional train sets are needed considering the growing number of air passengers from year to year and 80 percent of the users are air passengers, Awaluddin said.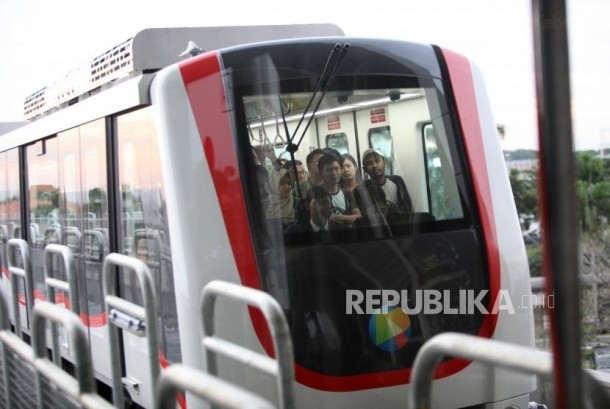 Skytrain crosses Terminal 1 Soekarno-Hatta Airport, Tangerang, Banten.
"Skytrain is a model of crew-less vehicles using automated guideway transit system. The Soekarno Hatta airport is the first to use skytrain in Indonesia starting in September 2017.
Currently the International Airport of Soekarno-Hatta has 3 train sets operating in dual tracks (track A and B) 3.07 kilometer long. The train sets have a maximum speed of 30 km per hour with a headway of 13 minutes and dwell time of 1 minutes. The skytrain, however, still is operated manually with a crew.
AP II plans automation of its skytrain to operate the train set without crewmen and the speed would be increased with headway reduced from 13 minutes to 6 minutes that the frequency of the train trips would increase.
The route of the skytrain from Terminal 1 - airport railway station -- Terminal 2 - Terminal 3 and back. The route would also be made longer to Terminal 4 to be built in the Soewarna golf course area and the commercial area of sky city also is yet to be built.
Angkasa Pura II also plans to build and provide supporting facility such as sky bridges, crossing, shelter, and signal system, which is fundamental in the operation of skytrain.
"The progress in the construction of the crossing and shelter has been 100 percent for the first phase; and developmenrt of th automatic signal system is also nearly completed," Awaluddin said.
With the plan to expand the sky train, the minimum connecting time (MCT) would be more efficient, he said.