Sleeper train charges its passengers with promotional tariff Rp900 thousand.
REPUBLIKA.CO.ID, JAKARTA -- The newest luxury sleeper coach operated by state-run railway company PT Kereta Api Indonesia (KAI) was fully occupied in its market test run for the Jakarta-Surabaya route during the Eid al-Fitr holiday on Tuesday. PT KAI's President Director Edy Sukmoro stated that passengers were interested in travelling in the new class to experience its exclusive services.
"The coaches are provided for consumers keen to take rest during the trip. Hence, this will be attached to a long distance train. Passengers will stay fresh and can return to their activities after the trip," he remarked during the launch of the sleeper class at Gambir station in Jakarta.
PT KAI Director Edi Sukmoro (right) talks with holidaymaker during the operation of luxury sleeper coach in Jakarta, Tuesday (June 12).
For its initial operation, the company has operated four coaches that will be attached to the Argo Anggrek train that starts from Gambir station in Jakarta to Pasar Turi Station in Surabaya.
The fare for the service is Rp900 thousand, which is a promotional rate on offer for a month only. "We will recount the normal price, but surely, it would be higher than the Priority class. However, first we will test the market to gauge the level of interest," he stated.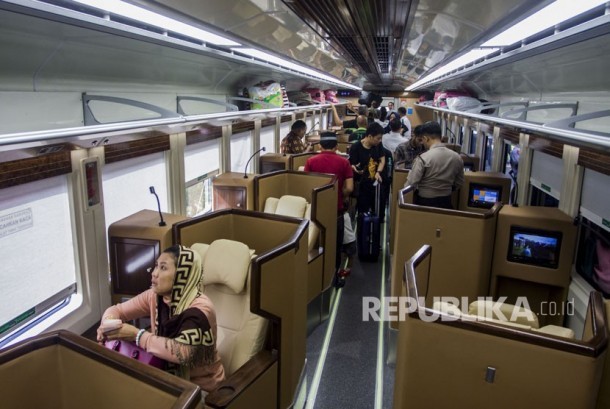 Holidaymakers choose to travel with newest luxury sleeper coach from Jakarta to Surabaya, East Java, Tuesday (June 12).
The coach was built by state-run train manufacturer PT Inka that will increase its production if demand for the sleeper class is high.
Among the new exclusive services are the 170-degree reclining seats, electric foot rest, 12-inch television with headset, USB charging power source, foldable food tray, pillow and blanket, trash bin, mirror, cup holder, compartment to store footwear, magazines, and a coat hanger, all of which are available for each passenger.
Each coach can accommodate 18 passengers, who will also receive complimentary meals, beverage, and snacks.