Regent of Tulungagung Syahri Mulyo is still at large, KPK says.
REPUBLIKA.CO.ID, JAKARTA -- The Corruption Eradication Commission (KPK) officially has sent Blitar Mayor Muh Samanhudi Anwar to a detention cell after he reported to the anti graft agency on Friday afternoon. Samanhudi was already named suspect when he was still at large charged with graft in the procurement of goods and services, KPK spokesman Febri Diansyah said here on Saturday.

Samanhudi reported to the anti graft agency on Friday to be questioned about the charge by KPK investigators. He refused to speak to journalists after he came out from the KPK building to be sent to the Central Jakarta Police Detention house where he would stay for at least 20 days for investigation.

KPK announced Samanhudi and Regent of Tulungagung Syahri Mulyo and four other people suspects also charged with graft in goods and service procurement. Syahri Mulyo, however was still at large.

"The regent of Tulungagung has not reported and no information yet about any plan to surrender to KPK," Febri said.

KPK has called on the regent to surrender and his political party, the Indonesian Democratic Party (PDIP) had also advised him to surrender. "We thank the PDIP for help in asking the suspect to surrender," Febri said.

The four other suspects were already in detention including Susilo Prabowo , a businessman now in the Guntur military detention house. The other three - head of the district Public Works Service Sutrisno, businessmen Agung Prayitno and Bambang Purnomo were sent to the KPK detention house of Merah Putih.

Febri said in the Tulungagung case, Syahri Mulyo, Sutrisno, and Agung Prayitno were charged with receiving bribe and Susilo Prabowo is charged with giving the bribe.

Those charged with receiving bribe in the Blitar city case included Muh Samanhudi Anwar and Bambang Purnomo with Susilo Prabowo as the briber. Susilo Prabowo is charged with bribing the regent of Tulungagung Rp1 billion via Agung Prayitno as "fee" for road infrastructure projects in that district area.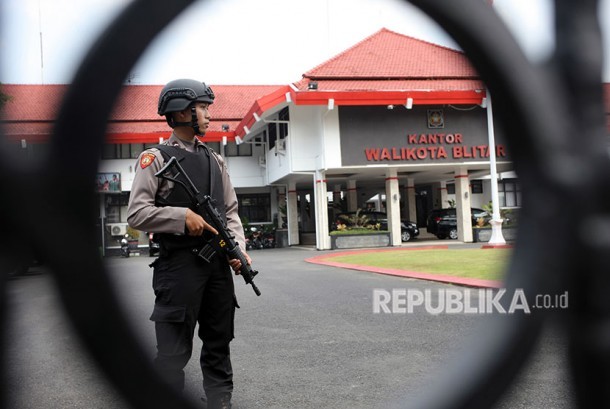 Full armed police guard the Blitar Mayor Office, East Java, on Saturday.

It was believed to be the third bribe given by Susilo. Earlier the regent was believed to have received Rp500 million and the second Rp1 billion.

Susilo Prabowo has won a number of contracts to build projects in Tulungagung since 2014, a KPK leader said.

The Blitar city mayor has also received Rp1.5 billion in bribe from Susilo Prabowo via Bambang Purnomo for a Rp23 billion school building project in the city. The "fee" was believed to be part of 8 percent for the mayor with 2 percent for the city public works officials.

In the operation, KPK confiscated a set of evidence including Rp2.5 billion in cash and other baking documents. Susilo Prabowo, therefore, is charged with bribing in two cases.
sumber : Antara