REPUBLIKA.CO.ID, SLEMAN -- Mount Merapi located in the border of Central Java and Yogyakarta Provinces, erupted on Tuesday at 1:47 a.m. local time. The Indonesian Government has declared the volcano's alert status on the previous day.
The phreatic eruption triggered an ash column reaching a height of up to 3,500 meters, Hanik Humaida, head of the Yogyakarta Office for Geology Disaster Technology Development (BPPTKG) said here, Tuesday.
The eruption lasting for three minutes also produced quite a loud roar, he added. To anticipate a major disaster, the office has issued five recommendations for people living around the volcano.
The recommendations include : there must be no mountain hiking except for study on disaster mitigation; A radius of three kilometers from Merapi's crater must be emptied from human's activities; and People living in the third disaster prone zone (KRB) must step up vigilant about the increased volcanic activities.
The public must not trust issues or information on the volcano's eruption from unclear sources. They must follow directives from the regional government officers, and if they have questions, they should pose the questions directly to nearby Mount Merapi's observation posts.
On Monday, Mount Merapi had also erupted.
"A low-level phreatic eruption had occurred at 1:25 a.m. local time, Monday (May 21), for 19 minutes, with the smoke column rising 700 meters from the crater, as observed by the officials at the Babadan Station," the Yogyakarta office said in a statement.
Despite the eruption, the agency remarked that the seismic amplitude remained in the normal level at 20 millimeters.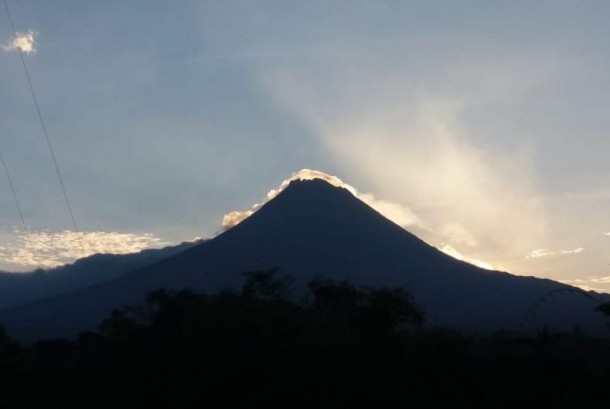 Mount Merapi seen on Tuesday (May 22).
Due to the low-level eruption, the Yogyakarta BPBD said it would not evacuate the locals living on the slopes and foothills of Mount Merapi, Wahyu Pristiawan, the office's quick disaster response team commander, confirmed.
On May 11, the volcano had a phreatic eruption and spewed smoke, ash, sand, and pyroclastic material from the crater.
sumber : Antara