Aman Abdurrahman allegedly responsible for Thamrin bombings and other terror attacks.
REPUBLIKA.CO.ID, JAKARTA -- Defendant in Thamrin bombing Aman Abdurrahman alias Oman was charged with capital punishment. Public prosecutors of South Jakarta District Court considered Oman is responsible for orchestrating suicide bombings and shootings at Jl. MH Thamrin, Central Jakarta, in January 2016.

Prosecutor said Oman met all of the criminal elements of terrorism crime. Oman was believed to be the mastermind of terror attacks.

"To sanctioned the defendant Aman Abdurrahman with death penalty," public prosecutor Anita said in a hearing at the South Jakarta District Court on Friday (May 18).

Prosecutor also asked the panel of the Judges to give compensation to the victims of Oman's terror attacks.

In the hearing, prosecutors admitted that Oman was not part of Jamaah Ansharut Daulah radical group. Oman himself has acknowledged that, confirmed by witnesses and evidences.

However, Oman was one of the referents. The books that he wrote entitled "Tawhid Series" are used as reference by groups with the same ideology.

Oman also proven to have published the book online so it can be accessed freely. The Indonesian government have blocked the sites containing Oman's articles.
Oman recruited Bahrun Naim who led the attacks in Thamrin areas.

After hearing the prosecutors' demand, panel of the judges invited Oman and his legal councel Asludin Hatjani to discuss whether the defense would be read solely by Oman or by each parties.

"We will propose our defense separately," Oman said.

The hearing to be continued on next Friday (May 28) to hear the defense.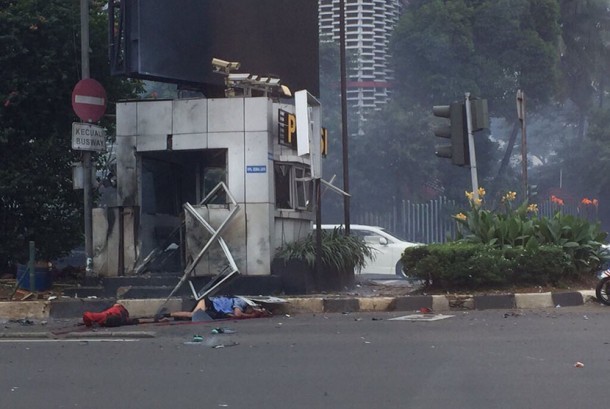 A bomb exploded at a Police Post, Sarinah, MH Thamrin Street, Central Jakarta, on January 14, 2016.

On January 14, 2016, six bombs exploded at MH.Thamrin boulevard in front of a Starbucks coffee shop and a police traffic booth. As many as 24 people were injured and seven died in the attack.

Among the seven casualties, five were the attackers themselves while two were civilians. Among the dead were two suicide bomb attackers while three other terrorists were killed in the shootout with police.

Of the two civilians who died, one was an Indonesian and the other a Canadian.

Jakarta Metropolitan Police Command Chief Inspector General Tito Karnavian has confirmed that the terrorists who orchestrated the attack in Jakarta on Thursday were linked to the ISIS terror group.