Setya Novanto asks the judges to consider his age and health status.
REPUBLIKA.CO.ID, JAKARTA -- Former House of Representatives speaker Setya Novanto cried while reading his defense plea in e-ID card procurement graft case. He conveyed apology to his family for being involved in the corruption case.
"To my beloved wife and children, please allow me to apologize," he said in Corruption Court, Jakarta, on Friday (April 13).
Novanto asked the Panel of the Judges to decide the case as fairly as possible considering his age and health status. Moreover, he claimed he has never been involved in criminal case.
"When I was named as suspect and now as defendant for violating Article 2 Paragraph (1) of Article 3 of Corruption Law, honestly I was very tough for me and I felt very devastated," he said.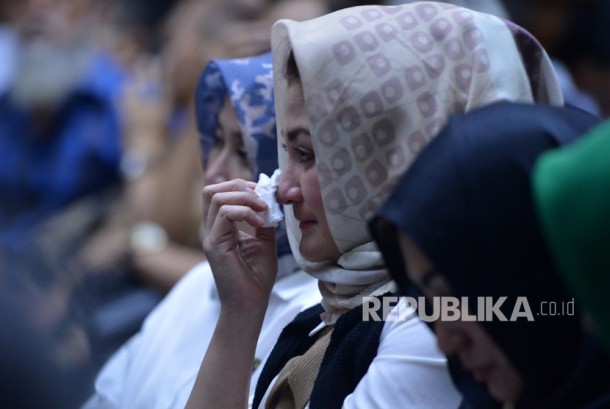 Deisti Astriani Tagor, the wife of the defendant in e-ID card graft-case Setya Novanto wipes her tears when hearing his husband defense plea at Corruption Court, Jakarta, on Friday.
In his defense plea, Novanto also told the Court about his political career. He said many people, especially former Golkar Party chairman Abu Rizal Bakrie played a great role in helping him to reach success.
He said he has been serving the country as House member since 1999 and reached the top position in the Parliament in 2014. Meanwhile, Novanto gained trust to lead Golkar Party in 2016.
Novanto said he helped Golkar to regain its glory after being divided, changed political direction from opposition to the supporting party of the government, and unified the cadres that were split, including the seniors of Golkar Party.
"It was not something easy. I did it with a lot of efforts and sacrifices, morally and materially," he said.
Novanto closed his defense plea by reading a poem written by Linda Djalil for him titled "Di Kolong Meja" (Under the Table).
Earlier, Corruption Eradication Commission (KPK) prosecutor has demanded 16 years in prison and a fine of Rp1 billion or six months more in prison for Novanto. The KPK prosecutor also demanded Novanto to pay compensation for the state fund losses he has caused.
"(We demand that the judges) would give an additional penalty by asking Novanto to pay US$7.435 million, minus Rp5 billion that the defendant had returned a month after the ruling was permanently effective. If he fails to meet the payment, his assets will be confiscated and later auctioned off to cover the payment. If his assets cannot meet the compensation payment, he would be sent to jail for three years," anti-graft agency's prosecutor Abdul Basir stated, while reading out his demand at the Central Jakarta district court, Jakarta, on March 29.
The prosecutor has also demanded the revocation of his political right. "(We demand) that his political right would be revoked for five years after he serves his prison term," he added.
The prosecutor has rejected Novanto's demand for a justice collaborator status. "The defendant has failed to meet the qualifications for a justice collaborator, and so we cannot accept his demand, but later if he could meet the requirements, the prosecutor may reconsider it," Basri elaborated.
Novanto was accused guilty for collecting US$7.3 million and a Richard Mille watch, worth US$135 thousand, causing a loss of Rp2.324 trillion to the state from the electronic ID project worth Rp5.9 trillion.