A total of 54 tons of garbage has been removed from Muara Angke.
REPUBLIKA.CO.ID, JAKARTA -- The Jakarta provincial government has continued to clear garbage piling up on the north coast of Jakarta. The Jakarta Environment Agency has provided two heavy equipment --- excavator and spider types --- to move garbage in the mangrove conversation area of the Kali Adem River, Muara Angke, North Jakarta.
"An excavator is used to transport garbage from the mangrove conservation area, while trash at the Kali Adem Pier is transported by a heavy spider equipment," Deputy Head of the Jakarta Environment Agency Ali Maulana Hakim stated here on Tuesday.
Hakim further noted that garbage in the area had been cleared since Saturday, Mar 17. On Saturday, 19 tons of garbage was transported; 15 tons on Sunday, Mar 18; and 20 tons on Monday, Mar 19. "We have cleaned and transported a total of 54 tons of garbage from the area," he revealed.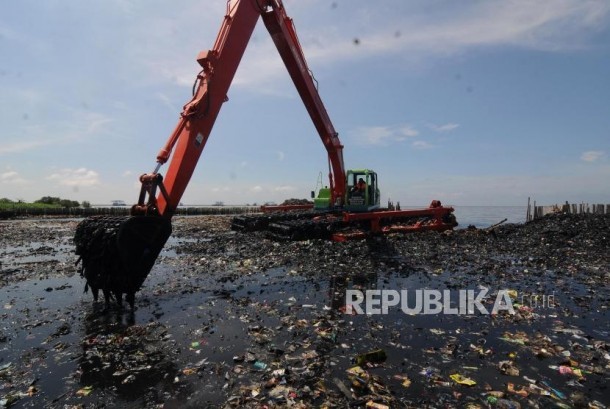 An excavator operated to clean up garbage piling up in Muara Angke, North Jakarta, on Monday (March 19).
Moreover, the heap of garbage was caused by the amount of trash carried by the waves from some maritime areas around Jakarta Bay, including 12 river mouths in Jakarta and its buffer city.
"Most of the household garbage was carried by the flowing water and reached the mangrove sea due to the blowing winds that caused huge waves," he stated.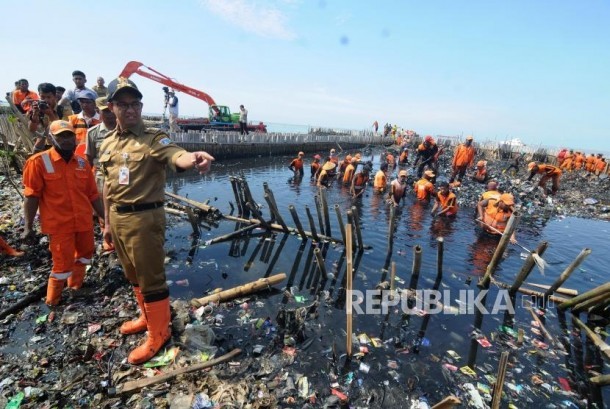 Jakarta Governor Anies Baswedan (second left) oversees the work to remove garbage piling up in the north coast of Jakarta, Muara Angke, on Monday (March 19).
Earlier, Jakarta's Governor Anies Baswedan and his staff had visited Muara Angke to clear the garbage.
"Responding to reports of the garbage in Muara Angke, the provincial government of DKI Jakarta immediately took steps to clean up the area. We must laud officers from the Environment Office, Natural Resources Office, Indonesian Military, Water Police, and others that have and will work hard for the next few days," he stated via the Twitter handle @aniesbaswedan.