Jawa Pos has revoked the news.
REPUBLIKA.CO.ID, JAKARTA -- Cyber Indonesia reported the House of Representatives (DPR) deputy speakers Fahri Hamzah and Fadli Zon to Jakarta Police on Monday (March 12). Both of them allegedly spreaded hoax (fake news) through social media Twitter.
Cyber Indonesia represented by Muhammad Rizki and accompanied by lawyer Muhammad Zakir Rasyidin filed the report on Monday (March 12). They said Fahri and Fadli spreaded hoax and hatred related to SARA (ethnicity, religion, and race) through Twitter accounts @FadliZon and @FahriHamzah originated form a news published by Jawa Pos which then been clarified.
"In the case, one of the medias has quoted and clarified that their report will bring a commotion, so the media made a clarification and revoked the news, but FZ and FH keep the false news," said Rizki on Monday (March 12).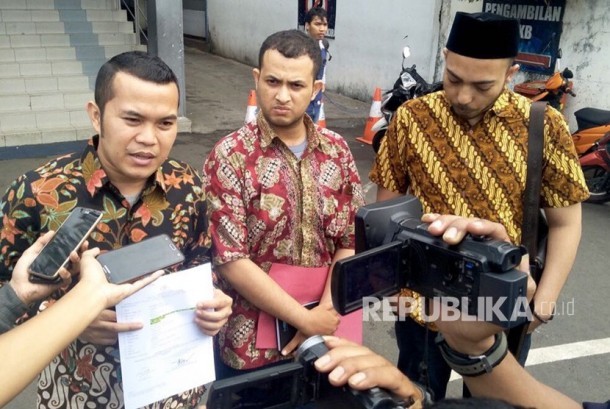 Representative of Cyber Indonesia, Muhammad Rizki (center) files a police report against Fahri Hamzah and Fadli Zon to Jakarta Metro Police for alleged spreading hoax, on Monday (March 12).
Rizki assessed the report can be a lesson for the society to not spread fake news. He said hoax can divide the nation.
"It's my duty as Indonesian citizen, I dont want Indonesia as the biggest Muslim majority country broken like Syria," Rizki added.
Fadli Zon and Fahri Hamzah retweeted @jawapos Twitter account saying "Muslim Cyber Army (MCA) group head is Ahoker or Basuki Tjahaja Purnama (Ahok) supporter. Thieves shouted thieves and claimed to be a Muslim. Come on @DivHumas_Polri finish all these problems, don't make National Police's name becomes bad by attacking religious identity,".
Rizki's report is listed in LP / 1336 / III / 2018 / PMJ / Dit. Reskrimsus. Fadli Zon and Fahri Hamzah allegedly violated Article 28 paragraph 2 juncto Article 45 paragraph 2 of Law No.19/2008 on Electronic Information and Transactions (ITE).