Ustaz Abu Bakar Ba'asyir family all wait for president's decision on leniency.
REPUBLIKA.CO.ID, JAKARTA -- Ustaz Abu Bakar Ba'asyir family will not ask for clemency to the government. However, his family is waiting for president's official decision on the discourse to grant leniency for the convicted terrorist prisoner.
"It's been decided. We will not ask for clemency," son of ustaz Ba'asyir, ustaz Abdul Rochim or ustaz Iim said in a text message to Republika.co.id on Sunday (March 4).
According to ustaz Iim, the president agreed to grant leniency to his father. Ustaz Ba'asyir's condition has been worsening the past years. He had swollen legs due to chronic venous insufficiency, suffered a cardiovascular disease and had gastric pains. "We have heard that President Joko Widodo has approved the request of home confinement for my father," he said.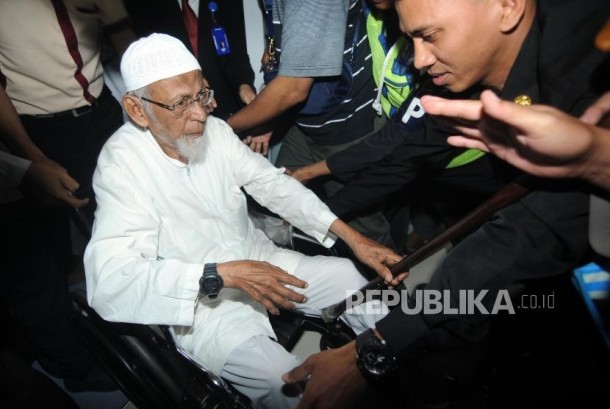 Convicted terrorist Abu Bakar Ba'asyir arrives at Cipto Mangunkusumo hospital (RSCM), Jakarta, Thursday (March 1).
He said it would took some time to realize the house arrest. Nevertheless, he believed his father could soon be treated at home. "May be the government has to prepare things. Insya Allah (God willing), it could be realized soon," he remarked.
Ustaz Iim proposed house arrest appeal to Defense Minister Ryamizard Ryacudu during a visit to al Mukmin boarding school, Ngruki, Central Java a last week. The appeal has been submitted to the president.
"God willing, the president has heard our family's hope and appeal," he said.
Positive image
Terrorism analyst from the Community of Ideological Islamic Analyst (CIIA), Harits Abu Ulya lauded Ryamizard's visit to ustaz Ba'asyir family in Solo. He assessed the president's image will be more positive if he grant home arrest appeal for ustaz Ba'asyir. "It's a humanist decision," he said in a statement received by Republika.co.id on Wednesday (Feb 28).
He hoped Defense Minister has conveyed the appeal of ustaz Ba'asyir family to the president. Moreover, a number of ulemas have shown their appreciation and support to the discourse.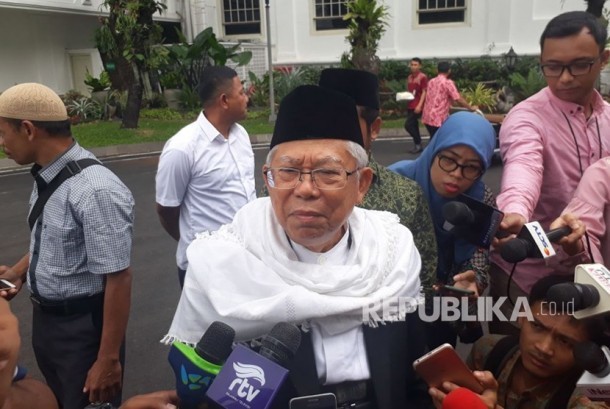 Chairman of Indonesian Council of Ulemas (MUI) KH Ma'ruf Amin conveys the result of his discussion with President Joko Widodo to the reporters at State Palace, on Wednesday (Feb 28). He said the president has allowed convicted terrorist cleric Abu Bakar Ba'asyir to be treated at the hospital.
Harist said in the context of terrorism issues, ustaz Ba'asyir figure has been far from the vortex of people who has the potential to create security disorder.
"Ustaz Ba'asyir is an elderly, he needed continuos care and continous medical treatment," he explained.
Harist said at least there are two options related to ustaz Ba'asyir family's appeal. The cleric could be transferred from Gunung Sindur Correctional Institution to Solo Detention Facility. "The other option is to prepare home confinement at Solo," he explained.
He believed the government could handle security aspects as the impact of ustaz Ba'asyir presence in Solo. He said home arrest request was rational and the government should not exaggerate the possible excess.
Earlier, President Joko Widodo (Jokowi) has not received the application from ustaz Abu Bakar Ba'asyir's family to consider home confinement for the convicted terrorist. Therefore, he refused to comment on the issue.
"The letter has not been received, so I can't say anything yet," Jokowi said after performing Friday prayers at Istiqlal mosque, Jakarta, on Friday (March 2).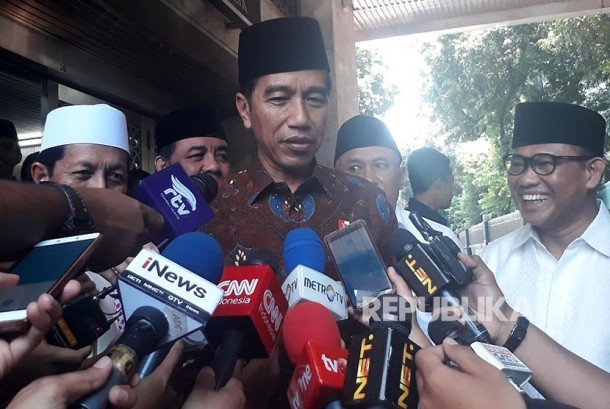 President Joko Widodo (Jokowi) answers reporters questions after performing Friday prayers at Istiqlal mosque, Jakarta, on Friday (Marcg 2). Jokowi says no application yet from ustaz Abu Bakar Ba'asyir family related to home arrest or clemency,
The request upon clemency also has not been in the president's hand. "About the clemency, I also have not receive the letter," he added.
South Jakarta District Court judge sentenced cleric Ba'asyir to 15 years in prison in 2011. The Assembly assessed ustaz Ba'asyir proved to create an atmosphere of terror with holding military training at Bukit Jalin Jantho, Aceh.
The Assembly also assessed Ba'asyir proved to plan military training with Dulmatin. They discussed the plan near al Mukmin Ngruki Boarding School in Solo, Central Java, in February 2009. The 80 years old man jailed in solitary confinement at Mount Sindur prison, Bogor to live the remaining period of the sentence.