Habib Rizieq confirms his decision to not return home this morning.
REPUBLIKA.CO.ID, JAKARTA -- Islamic Defenders Front (FPI) leader Habib Rizieq canceled his plan to return to Indonesia on Wednesday (Feb 21). Chairman of a group that called themselves as Alumni 212, Slamet Maarif has confirmed the news.
"We want to convey, as our communication with high priest teacher, Habib Rizieq Shihab he make sure to delay his plan to return to Indonesia today," said Slamet on Wednesday (Feb 21).
Slamet said he got the news from Rizieq at 06.00 am on Wednesday. Rizieq was said to call him via phone directly. Therefore, he asked people who wait for FPI leader at airport to go home.
"He called me at 6,00 am and last night around 23:00 West Indonesia Standard Time, I lost contact with Habib Rizieq. We hope all our friends who wait at Soekarno Hatta airport to go home immediately," Slamet added.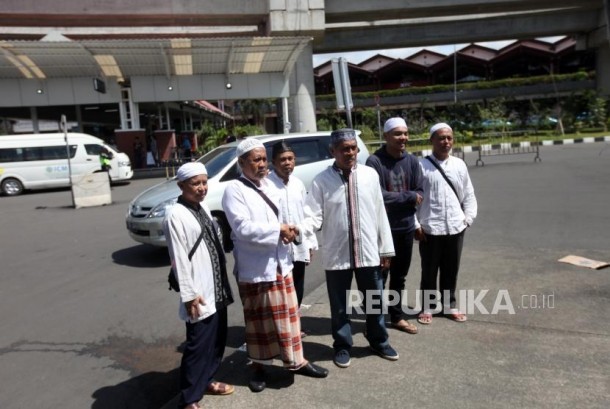 Habib Rizieq's supporter awaits the high priest of Islamic Defenders Front (FPI) arrival at Soekarno-Hatta International Airport, Tangerang, Banten, on Wednesday (Feb 21).
He expected all people who want to welcome Rizieq to maintain order and peace. Slamet said they could meet the advisor of National Movement to Guard the Indonesian Council of Ulema's Fatwa (GNPF Ulama) later.
"Insya Allah (Gods will) the people's struggle to meet Habib Rizieq will be recorded as goodness field by Allah SWT," Slamet added.
Habib Rizieq was rumored to return from Saudi Arabia on Wednesday morning. The date of his return symbolized 212 rally, a rally to demand law enforcement against Basuki Tjahaja Purnama (Ahok) as suspect of alleged religious blasphemy.
Also read: National Police holds meeting to anticipate Rizieq's return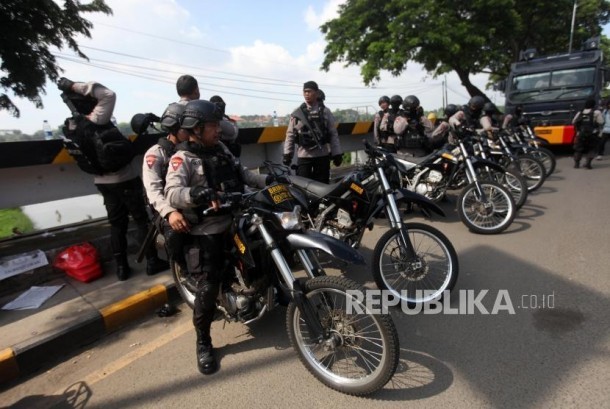 Mobile Brigade (Brimob) personnels secure the Soekarno-Hatta International Airport area, Tangerang, Banten, to anticipate the return of Habib Rizieq Shihab, on Wednesday (Feb 21).
Habib Rizieq flew to Saudi Arabia along with his family for umrah pilgrimage on April 26, 2017. On May 29, 2017, Jakarta Metro Police determined him as suspect in sexually explicit WhatsApp chats allegedly exchanged between him and Firza Husein.
He missed police summonses to be questioned as witness. On July 27, 2017, police investigators questioned Habib Rizieq at Saudi Arabia. "He is cooperative during the examination. We will re-summons him when he gets back, if necessary," National Police chief Tito Karnavian said on Friday (August 18, 2017).
The police did not took Habib Rizieq home. They let the Islamic Defenders Front's highest priest to perform hajj and prefered to wait him to come home.
Habib Rizieq threatened with Article 4 paragraph 1 juncto Article 6 juncto Article 32 and Article 9, juncto Article 35 Law No. 44/2008 on pornography.