REPUBLIKA.CO.ID, JAKARTA -- Head of Center for Data, Information and Public Relations of the National Disaster Management Agency, Sutopo Purwo Nugroho, urged the community to build awareness towards potential disaster in their area and prepare mitigation efforts to protect themselves from such incidents.
"In general, our society is still not ready; for example, we can understand from the earthquake in Tasikmalaya, West Java, that struck the area with a strength of 6.9 on the Richter scale and damaged almost 5,200 houses," Nugroho stated in Jakarta on Monday.
He believed that the high number of damaged homes, caused by the earthquake itself, was due to the fact that most of the houses were not prepared to deal with the earthquake.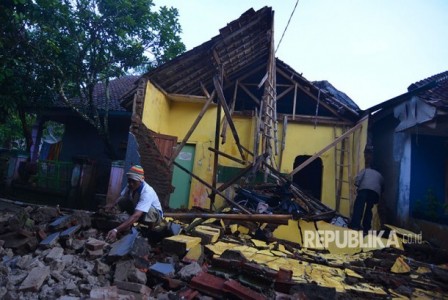 A resident picks up wreckages of his house after an 6.9-scale earthquake hit Tasikmalaya, West Java, on Friday (December 15, 2017).
He was very much aware that most houses in Indonesia were not prepared for earthquake resistance, because the cost to build them was much more expensive than ordinary houses.
In addition, he considered the Indonesian people to have been accustomed to build houses that were tailored to their budget.
For example, an individual is likely to build a house that measured 21 meter square on a 72 meter square land. When the person acquires more budget, the first thought is usually to expand the structure of the building, either horizontally or vertically, keeping the foundation of the building intact.
"There are rarely any who would consider maintaining the type 21 house and strengthening the foundation of the house instead," he remarked.
Moreover, most of the housing development in Indonesia today is wall to wall, meaning that they are often very close from one another. As a result, when an earthquake occurs, damage to one of the houses could have an impact on other houses as well.