REPUBLIKA.CO.ID, JAKARTA -- Jakarta Deputy Governor Sandiaga Uno has called on his staff here on Tuesday to conduct a regular inspection of all buildings in the country's capital city, in order to prevent incidents similar to the floor collapsed at the Indonesia Stock Exchange (IDX) Office on Monday (Jan 15).
"We have asked for a regular check on all buildings, including the public facilities in Jakarta," Uno stated at the City Hall in Jakarta on Tuesday.
A regular review on building safety remains necessary in order to ensure the worthiness of the structure as well as protect its occupants.
"We should learn from the incident that happened at the IDX building that a reckless inspection may lead to a catastrophic disaster," he remarked.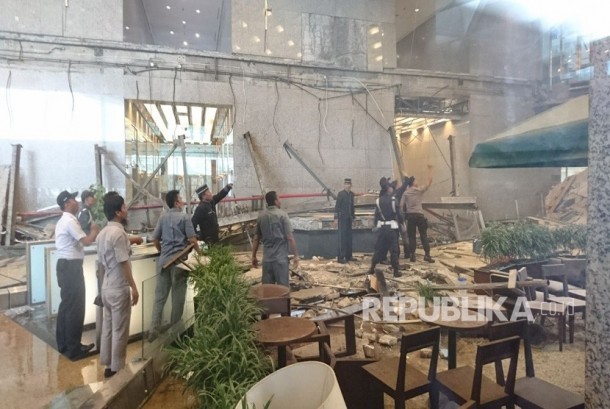 Floor collapsed at Indonesia Stock Exchange, Jakarta, on Monday.
Hence, he planned to set up a task force to review building safety. The team will call on the building owner or administrator to conduct a regular check on the building's safety and worthiness, he added.
"We are seeking to set up a special task force in order to ensure the worthiness of the buildings. We will launch a collaborative action that will include the owner or the administrator of the buildings. Hence, as the result, we would be able to avoid any similar incidents," Uno stressed.
On Monday (Jan 15), the first floor of the IDX Mezzanine Tower collapsed at 12.10 p.m. local time. According to the Police Spokesperson, Inspector General of Police Setyo Wasisto, some 77 people were hospitalized at Mintohardjo Navy Hospital, Siloam Hospital, and Jakarta Hospital.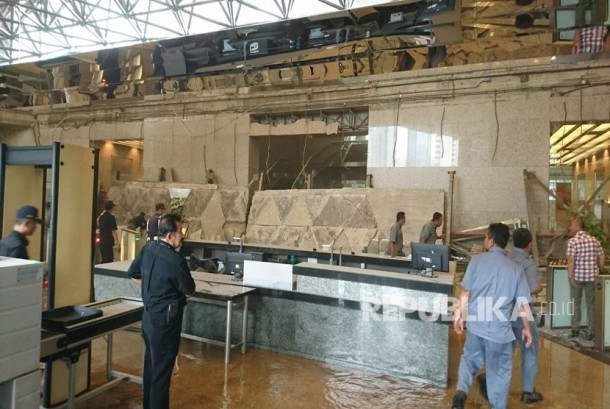 Floor collapsed at Indonesia Stock Exchange, Jakarta, on Monday.
Despite the incident, the stock market remains uninterrupted, as the trading in shares operated normally on Tuesday (Jan 16), the IDX building operators, Cushman and Wakefield, confirmed.
"We have been informed by the main building operator that the main structure of IDX's building is safe, because the incident occurred at the tower's secondary structure," Samsul Hidayat, IDX Listing Director, revealed in Jakarta on Tuesday.
Therefore, the stock authority will continue its agenda of announcing the first Initial Public Offering (IPO) in 2018 by PT LCK Global Kedaton Tbk on Tuesday.
Hidayat noted that the building operator has installed a supporting structure on the mezzanine area of the IDX Tower I.
He further called on the employees to temporarily work at the IDX Tower I, but those who seek to conduct any activities at the Mezzanine Tower must get a permission from the building administrator.
"The police are now investigating the IDX Mezzanine Tower (II)," he noted.
Hidayat stated that the IDX management will temporarily cover all the medical treatment expenses for the injured, while awaiting the insurance by the building administrator, he stressed.