Hijrah Festival showcases food and clothing products.
REPUBLIKA.CO.ID, JAKARTA -- At least 200 businessmen are participating in the first-ever Hijrah Festival. The event was held at the Jakarta Convention Center (JCC) to chiefly showcase food and clothing products.
The Hijrah 2018 festival, which was declared open by Jakarta Governor Anies Baswedan on Friday, displayed an array of food and clothing products as well as services and is also expected to serve as a bridge to open access to Muslim markets in Indonesia. The 2018 Hijrah Festival is being held on November 9-11, 2018, in Hall A of the JCC in the Senayan area, Jakarta.
According to the governor, the Hijrah Festival is a big event held in Jakarta, and its impacts will be wide-ranging if the movement of the people behind it is large.
"This activity is used as a forum to bring together individuals and communities in an effort to strengthen one another in Muslim brotherhood. It is hoped that this event would be able to improve the economy of the community," Chairperson of the 2018 Hijrah Festival Organizing Committee Arie Kuncoro Untung informed Antara at the opening of the event.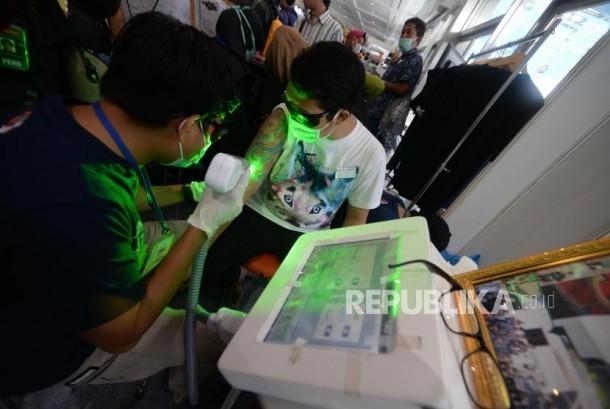 Tattoo removal services available at Hijrah Festival 2018 at JCC, Friday (Nov 9).
Untung further noted that over 200 Muslim entrepreneurs had showcased 100 brands of products in addition to the Muslim seminars and meeting with the hijrah fans. Moreover, the festival promotes various products and services, such as Muslim clothing, food products, and tattoo removal services, including the learning video editing service.
The phenomenon of hijrah (movement to develop) is now becoming a part of the modern lifestyle of young urban Muslims and currently having an impact across Indonesia.
The hijrah is also becoming a trend among young people now that gives birth to many derivative products, with various innovations, in order to seize opportunities and tap various areas of potential.