Mifath feels like she wins gold medal when receiving umrah pilgrim as a gift.
REPUBLIKA.CO.ID, JAKARTA — Indonesia's blind judo athlete in 2018 Asian Para Games, Miftahul Jannah knew the regulation that prohibit hijab in judo competition. However, she decided to compete without removing her hijab.
She said the move was meant as an effort to break rule of the competition set by the International Judu Federation (IJF). "I knew from the beginning that in judo match, we aren't allowed to wear hijab, but I want to break the rule. I think that rule can be changed," said Miftah on Tuesday (Oct 9).
Being disqualified from the Asian Para Games 2018 blindness judo match at the Jakarta International Expo Kemayoran, Jakarta, on Monday, Miftah did not feel disappointed. She stressed that using hijab is a principle, which is not negotiable.
Miftah also relieved that she able to uphold the principle of using hijab since she was a kid. However, she respected the rule enforced by International Judo Federation, which prohibits any form of head covering during a match.
"Judo prohibits hijab because it has been regulated. I also don't want to take off my hijab because that's the principle. Both must keep going," Miftah explained.
Also read: Refuse to remove her hijab, judo athlete is disqualified
Miftah understood the regulation to prohibit hijab during the competition. According to her, there are some movements on the mattress that make the fighters pull anything on the opponent's head to conquer each other.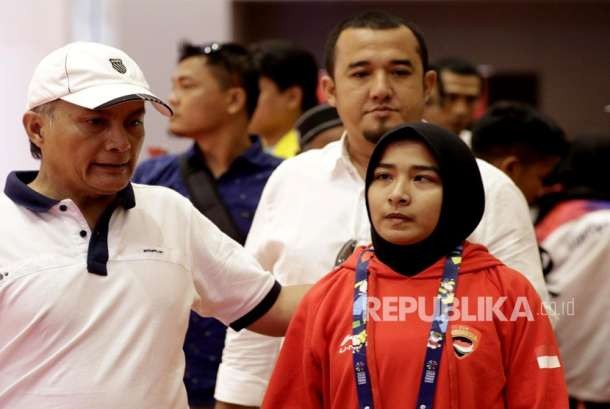 Indonesian women's judo athlete Miftahul Jannah left the venue after being disqualified in 52 kg blind judo Asian Para Games 2018 at Jiexpo Kemayoran, Jakarta, Monday (Oct 8).
During training, Miftah wore hijab same as swimming athletes. She also intended to wear it during the match yesterday, Monday (Oct 9). However, she must be disqualified from the match after a technical meeting with the committee.
Although she was disqualified, Miftah received a present, an umrah (minor hajj) ticket from one the officials who appreciated her principle. She was pleased with the appreciation.
Miftah felt like she won Asian Para Games gold medal. When accompanied by Minister of Youth and Sports Imam Nahrawi, Miftah was asked about her demand to the government.
"I asked what Miftah wants from government," Nahrawi said.
However, Miftah did not mention anything. "I will accept any kind of appreciation given by the government," said Miftah.