First Travel assets should be sold for the benefit of the victims, the lawyer says.
REPUBLIKA.CO.ID, JAKARTA -- Lawyer of First Travel umrah scam victims Luthfi Yazid was surprised with the decision read by panel of the judges in Depok District Court, West Java on Wednesday. Judges have decided to confiscate the travel agent's assets for the state.
Luthfi said the decision to seize all asset of First Travel should be clarified further. He said it should be given back to the customers, not the state.
"First Travel stole the customers money and it would not be fair if the travel agent's asset seized for the state," he said.
Luthfi reminded the Ministry of Religious Affairs' decree No. 589 Year 2017. It stated the revocation of First Travel's license and obligation to return customers' payment for umrah or divert the tour to other travel agents, with all funding covered by First Travel.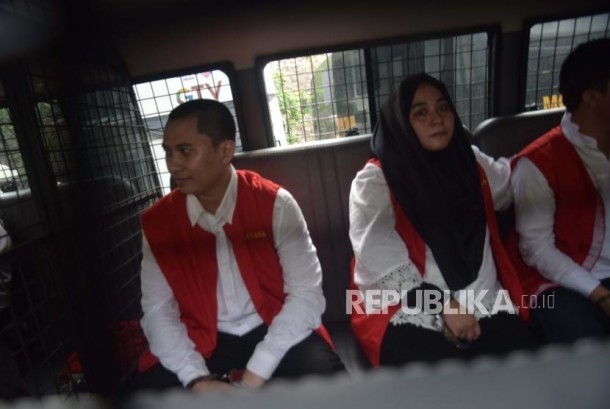 The convicted of First Travel Umrah scam, Andika Surachman (left), his wife Anniesa Hasibuan (center) and Siti Nuraida Hasibuan were in the prisoner car after the hearing of their verdict at Depok District Court, West Java, Wednesday (May 30.
Prosecutor Heri Jerman said all assets of First Travel have been listed and secured. He made sure that none of the assets scattered.
"A total of 500 items have been seized as evidences," he said at Depok District Court on Wednesday.
Earlier, Association of First Travel customers accused the prosecutor has not been transparent in naming the travel agent's assets into the evidence list. "All assets should be sold or auctioned for the benefit of the victims," Suwendra said before panel of the judge ahead of the verdict.
Panel of the judges in Depok has sentenced First Travel bosses, Andika Surachman and his wife Annisa Desvitasari Hasibuan respectively with 20 years and 18 years of imprisonment and fine Rp 10 billion or a year and four months confinement. They were the main suspects in an Umrah scam amounting to Rp 905 billion from 63.310 customers of First Travel's Umrah (minor haj) tour packages.
Andika and Anniesa were charged under articles 378 and 55 of Criminal Code on fraud and Article 3 Law No. 8/2010 on money laundering.
Meanwhile, the other defendant, First Travel manager Siti Nuraida Hasibuan (Kiki) had been sentenced to 18 years imprisonment and Rp 5 billion in fines or another year in prison.