Trump to relocate US embassy from Tel Aviv to Jerusalem on May 14.
REPUBLIKA.CO.ID, JAKARTA -- Indonesian Coalition Chairman for Bayt al Maqdis Freedom Bachtiar Nasir has urged US President Donald Trump to stop provocative action by moving the US Embassy from Tel Aviv to Jerusalem. He stated that it will trigger global tensions.
"President Trump must be prepared to pay for his disgraceful actions that insult the holy land of Bayt al Maqdis," Nasir emphasized in his oration during a rally to free Bayt al Maqdis from Israeli Occupation or 115 rally held at the National Monument (Monas) Square in Jakarta, Friday.
He affirmed that thousands of Muslims had gathered at the Monas Square to voice strong opposition and stop Trump's plan to move the US Embassy from Tel Aviv to Jerusalem, or also so-called Al-Quds Asy Syarif, on May 14, 2018.
According to Nasir, Trump's plan offers momentum to religions around the world to unite in order to end the US tyranny and Israeli occupation.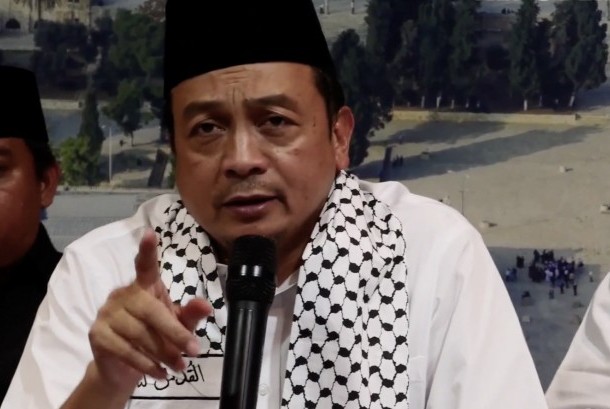 Muslim preacher Bachtiar Nasir
"Now is the time to unite Muslims and people of others religions around the world. It is time for all religions in the world to unite and end injustice," he remarked.
Nasir called on all parties to fight tyranny, arrogance, and colonialism that have been occurring in Palestine for over seven decades since 1948.
Several mass organizations participated in a rally to set Palestine free from Israeli Occupation in response to the US plan to move its embassy from the Israeli capital, Tel Aviv, to Bayt Al-Maqdis.
"We will fully participate in the rally," Novel Bamukmin, a spokesperson of the Islamic organization 212 Brotherhood stated, adding that the organization had prepared logistics and set up health tents to support the event.
The rally named "Indonesia Sets Free Palestine from Israeli Occupation" was initiated with a Fajr prayer at around 4:30 a.m. local time at the Monas Square and Istiqlal Mosque in Jakarta and ended with the Friday prayer at the same location.
At least 35 thousand police and military personnel were on duty to secure the rally.
Bayt al Maqdis is one of the three Islamic cities, apart from Mecca and Madinah in Saudi Arabia.
The US Embassy in Jakarta, located just a few kilometers from the Monas Square, closed its public services for passport, administration, and visa in response to the rally.