GNPF Ulama appoints ustaz Bachtiar Nasir as member of Board of Trustees.
REPUBLIKA.CO.ID, JAKARTA -- National Movement to Guard the Fatwa of Ulemas (GNPF Ulama) has reorganize its committe. It was done through consensus of the members.
In the new structure, ustaz Bachtiar Nasir no longer served as chairman. He was replaced by ustaz Yusuf Martak. Meanwhile, the position of general secretary was transferred from Munarman to Muhammad al Khaththath.
Ustaz Yusuf explained the reorganization was done merely to maximize the GNPF Ulama's performance. The new committee was mandated to work in a one to two years term.
On the other hand, GNPF Ulama also has transformed itself into a collective collegial system to better embrace all elements of the organization. "All boards will have the same rights," he said in a press conference on Monday (March 12).
Also read: Spirit of 212 can solve Muslims economic, social issues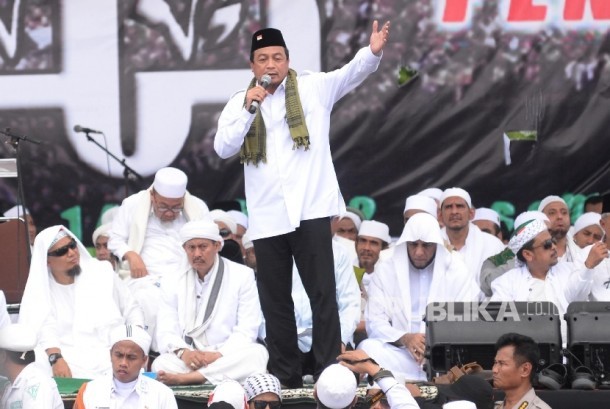 Ustaz Bachtiar Nasir speaks at 212 Rally or Aksi Bela Islam 3 at Monas area, Jakarta, Friday (Dec 2, 2016).
Ustaz Bachtiar has been appointed as member of GNPF Ulama's Board of Trustees. The members of GNPF Ulama understood ustaz Bachtiar has a tight schedule. "We still need ustaz Bachtiar's figure, we do not want to lose him in the organization," ustaz Yusuf said.
Ustaz Yusuf recalled the idea to form GNPF. He said GNPF MUI was born to response blasphemy conducted by Basuki Tjahaja Purnama (Ahok) who was the governor of Jakarta. The police said they will stated the case as blasphemy if Indonesian Council of Ulemas (MUI) said so.
Ahok was found guiltiy and jailed for two years. After that, GNPF MUI changed their name as GNPF Ulama. "Our struggle is not over yet and will not be over. We must stay consistent and be patient with all the efforts to criminalize and discrediting Muslims," he said.