REPUBLIKA.CO.ID, JAKARTA -- Vice chairman of Commission VIII House of the Representatives Noor Achmad asked the authority not to declare PT First Travel bankrupt. He urged the police to investigate the umrah scam case thoroughly, including to trace the umrah travel agency's assets.
"We already conveyed, not to declared the company bankrupt as it will inflict a financial loss to the pilgrims," the Golkar party politician said on Thursday (October 12).
Noor said, some of First Travel's customers suspected there are certain parties behind the agency. In order to be transparent, he assessed Financial Transaction Reports and Analysis Centre (PPATK) should intervene to monitor pilgrims' money and assets of First Travel owners.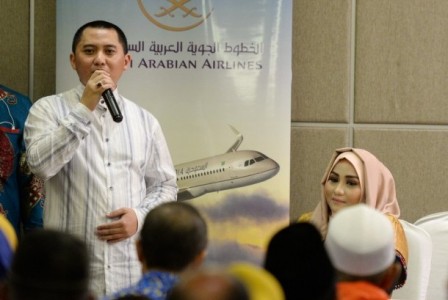 President Director of First Travel Andika Surachman (standing) and First Travel Director Anniesa Hasibuan (sitting). Republika / Wihdan Hidayat
As requested by the pilgrims, Commission VIII will have a special meeting with Financial Services Authority (OJK), Bank Indonesia, Police, PPATK and Ministry of Religious Affairs.
In a hearing on Thursday (October 6), the Panel of Judges of Commercial Court granted the postponement of debt service obligation (PKPU) of PT First Anugerah Karya Wisata aka First Travel.
The postponement period of PKPU First Travel has been officially extended for 30 days. This 30 day time is the maximum time given by the creditors.
First Travel umrah scam has made 35,000 customers failed to be transported the Holy Land.
A number of victims of the First Travel's umrah fraud case attend an audience meeting with representatives of Commission VIII and PPP Faction in Parliament Complex, Jakarta, Friday (August 18). Republika / Rakhmawaty La'lang
Police have named three suspects, namely Andika Surachman (President Director), Anniesa Desvitasari (Director) and Siti Nuraida Hasibuan alias Kiki Hasibuan (chief commissioner) in the case of alleged fraud and embezzlement of money paid by tens of thousands of Umrah pilgrims to PT First Anugerah Karya Wisata or First Travel.
Surachman is known to be the main perpetrator of fraud, embezzlement, and money laundering in this case, while Anniesa and her younger sister Kiki played a role in helping Surachman in committing the crime.